(Note that in this list I didn't include the two last albums. At the end, you will find more information about Where's the truth and FtIsland 10th-anniversary album).
Here is my  favorites FtIsland's songs:
I wish – [FIVE TREASURE BOX]

Hello Hello – [RETURN]
Madly – [THE MOOD]
I confess – [RETURN]
Hope [CROSS&CHANGE]
Like birds – [MEMORY IN FTISLAND]
Bad Woman – [JUMP UP]
Love love love – [BEAUTIFUL JOURNEY]
Memory – [THANKS TO]
After love – [COLORFUL SENSIBILITY PART.1]

Lovesick – [CHEERFUL SENSIBILITY]
If you love this song, so try Until you come back [The refreshment]
To the Light – [TO THE LIGHT]
If you're listening to this album, don't forget to listen to Find the light!
Before we start, I have a recommendation: If you like a ballad and/or enjoy a little of rap in your songs, so you can try the first albums of the band. However, if you like stronger rock vibes, you probably will prefer the last albums and, in this case, you can start by listening: I will and Where's the truth.
In this text, I will suggest songs for you. So, you can improve your fangirling level. (Of course, the songs below are only suggestions and all comments are based on my taste and opinion).
Note: Pink titles = albums // Blue titles = mini-album or single // Bold = song title
Cheerful Sensibility vol.1 – this was their first album. I pick some songs I think is a good way to start entering in FTIsland's world. They are: I'm happy, They tell me to stop, Because I don't know how to love and First Kiss.
The refreshment (2007) –  Until you come back is one of the best songs. [This album is a repackaged version of the first album, so there are few new songs].
Colorful Sensibility (2008) – From this album, I suggest: You are my love. However, I wanna emphasize that this album is a great choice if you like a ballad.
Colorful Sensibility part 2 (2008) – Love is… is a lively song, and Lee Hong Ki make a great work delivering a powerful vocal. Hopeful is a romantic song, if you are in the mood, give it a shot! The thing I should have continued doing with her is a good surprise and I think it will be an exciting discovery for you. The last song is "you are my love (remix)", both versions of this song are equally recommendable.
FT island Live album (2008) and Rock Prince (2nd live concert) haven't' new songs.
One Date (2009) is a single album. "Lie" is the title of the song. In my opinion, this is a good song. You should give it a try!
Jump up (2009) – Bad Woman is such good song, oh my goodness! Of course, this is a song that you definitely should listen. [Notice that Bad Woman is similar to "lie", the previous song I suggested. If you enjoy this style, so you should listen to Missing you.
Magic will make your body move. Because the song has a more bouncing rhythm. In fact, this is a very nice song and it is part of my personal playlist!
Like a Doll is a good ballad song.  However, if you're looking for a romantic song but not a ballad, you may be pleased while listening to You and I.
What should I do is the last song of this mini-album and, for me, it's a perfect ending and the song combine great with Missing you.
Cross & Change (2009) – In general, this album sounds better than the previous albums, especially, because Lee Hong Ki's voice was more mature here than in Colorful Sensibility, for example.
Here you will find the awesome song: I hope (see my top 10). My second favorite song here is: Already knew it at first sight. It has a happy melody and it's very cute.
Ugly is that kind of song you can call "an FTIsland typical song", so I suggest it too.
The album has some great ballads. I suggest these: You don't know my feelings + Love it & hate it + Meet Girl [shower] + Even if it's not necessary.
Double Date (2009) is a "repackage" album. You have Cross & Change songs and six new songs.
In my opinion, Love Letter is a good choice!
Far away is a very happy song.
Take into consideration that Far away – like BingBingBing (Cross & Change), is a completely different song in comparison with the "regular" FtIsland! So, take your changes!
Beautiful Journey (2010) – In this mini-album, I know that fans of ballad will enjoy Iron Heart. People who like to move their bodies will want to listen to Song of Don Quixote. For fans of HongKi's powerful voice, I recommend Crazily, only you.
Return (2011) – After you check Hello Hello, you must listen to I Confess.
Don't forget to check Sunshine girl.
In general, if you like more energetic – and with happy melody – songs, this album is a good choice!
Memory in FtIsland (2011) – In this mini-album, Heartbroken is a recommendable song. It is very different in a good way!
For FtIsland ballads lovers, Even if it's your tears. Take your chances and listen to Not a true goodbye. This is a song with smooth notes, I like it!
Grown Up (2012) – Here, you will find Severely, which is one of the most know songs of FtIsland. Also, I'm a foolish person is another nice ballad, with a pleasant melody.
Five Treasure box (2012) – I think this album will sound more familiar in the case you started listening to FtIsland recently. For two reasons: Lee Hong Ki's voice is pretty similar to his voice in the recent albums and, in this album, the rhythm makes a transition focusing more on energic pop rock than in the ballad songs.
From this album, I strongly recommend: Your words + Stay with me. Also, you can feel like giving Paper Plane and Compass a chance.
U (All I want is you) is in the "happy song" category!
Let her go is a good ballad if this rhythm is your thing.
All the other songs are great, I suggest you listen to this entire album! Really, Five Treasure box is an excellent album!
The mood (2013) – If you already listened to Madly, The way into you is another good song that you have to listen to this mini-album!
Thank to (2013) – If you are here, so try listening Always with you!
FtIsland Japan Best "All About" has Korean versions of some Japanese songs.
If your style is a rock-"ish" FtIsland so you should try to Be free. Personally, I prefer Freedom, this song is amazing!
For the ballads' fan, Orange Sky is your song on this album 😊
I will (2015) was the album released by FtIsland in the year I have started to listen to the band! I was so excited about this album!!! Because of it, I've good memories of listening "I will", the title song. So, yeah!!! I really recommend the song, I'm sure you will like.
I already suggested other two songs from this album on my playlist. So, here, let me recommend you some less well-known songs as Shadow and Please.
Time to is an enjoyable song, especially, if you like songs with a stronger rock rhythm. Black chocolate and Hey girl can be other options if you want to try something different. Personally, I like Black Chocolate, it's a catchy song.
In general, I think this is a good album; however, if you enjoy the more ballads or rock-pop songs of FtIsland, so this album can be a quite different experience.
Where's the truth (2016)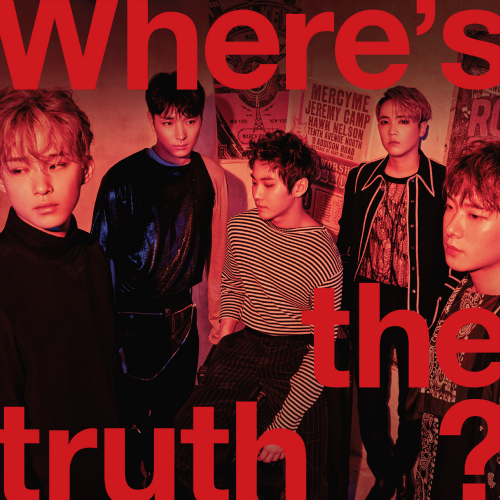 That is one of my favourite album! This is why I didn't include any song from this album on my top-10 list! It would be an unfair playlist.
As Bilboard explained: This album "marks one of their most personal releases to date with the members writing, composing and producing the nine-track LP, including main vocalist, Lee Hong Ki, co-writing and producing the lead single 'Take Me Now'."
I LOVE SO MANY SONGS IN THIS ALBUM, that I can't choose just a few sons to list.
[I have a tip (or a trick?) to you. If you haven't' enjoyed "I will" so much, try to listen to Where's the truth! By doing that, you will be able to feel the style of music that the boys want to make.]
About the songs in this album:
Out of Love, Take Me Now and Lose are more rock!
Becoming you, Stand by me, and We are have soft rhythm.
Paparrazzi and Wonderful life are the happiest song in this album.
FtIsland 10th anniversary album [over 10 years] (2017).
Here the song title is Wind and this is a great song, which reminds us of the first years of Ftisland. Personally, I also enjoyed "what u want" and "champagne". However, I bet you will find in this album other songs to listen to and enjoy this amazing band!
Ah, don't forget to check the new version of Love sick!
Conclusion!
After all that said: If you want to know FtIsland further, I recommend you access Spotify and listen the albums and mini-albums so you will discover your own favorites. They have songs for almost all tastes!
Additional info:
If you haven't' listen to the new Japanese song Hold the moon, please, do it now:
Next comeback (Japanese album): April 11.