In this review, I will comment the k-drama Argon.
Argon was broadcasted by TvN and it wasn't available for international viewers until November 22, when Netflix subtitled it and put it online. So, the expectations were very high about this drama and I think it deserves some comment, which is what I will do today.
First of all, in August 2017, the works of MBC and KBS – two Korean public channels – went on strike calling for the resignation of their CEOs and the restoration of political neutrality at public broadcasters.
Argon started to be broadcasted on September 4, 2017, and finished on September 26, completing 8 episodes with 60 minutes each. Consequently, it wasn't a coincidence but a conjecture that led the drama to be aired in that moment.
"Argon" is the name of an investigative news program and is also the name of a chemical gas that is used to protect compounds from oxidation. That reveals the effort of the Argon team to protect the truth behind the events.
Plot:
The drama tells us the story of Kim Baek Jin (Kim Joo Hyuk). He is an anchor, reporter, and the leader of "Argon". It is also the story of Lee Yeon Hwa (Chun Woo Hee), a contract reporter, who has 3 months before her contract is over.
The main case is about a commercial building that collapsed and killed 70 people. The case involved the government and the construction firm responsible for the project. Both of them accused an employee of knowing about the issue and running away from the local without alerting anyone.
Restoring the truth behind the collapse is the Argon's job. Meanwhile, the team will investigate other cases and struggle to reveal the truth in each one of those cases.
Actors and characters [minor spoilers]
Kim Baek Jin was played by Kim Joo Hyuk, who unfortunately died in a car accident recently. The actor did a great job with his character. I don't have anything to complain about his acting. [I only didn't like a corny scene in episode 7, but this is a very small detail and it doesn't change the general impression that his work was amazing!].
However, I can't say such good words about his character. Kim Baek Jin is the typical "the more rigid, picky and mean the better you are". When did people begin to think that competent professionals should be bad human beings? I don't know, but this is the case of Baek Jin. He has harsh words for everyone when he could just give constructive comments about their work. However, and as it was expected, he is very polite when he is talking to his superiors. The excuse for his personality is the huge responsibility he carries on his shoulders.
Also, Baek Jin, in the first place, only trusted Yeon Hwa with the investigation about the collapsed building because she was a rookie and as such she was dispensable. How can a person who is allegedly ethical make this kind of decision? Afterwards, he will become more "humane" about her, but in many moments, mainly in the begging of the drama, he didn't behave correctly towards her.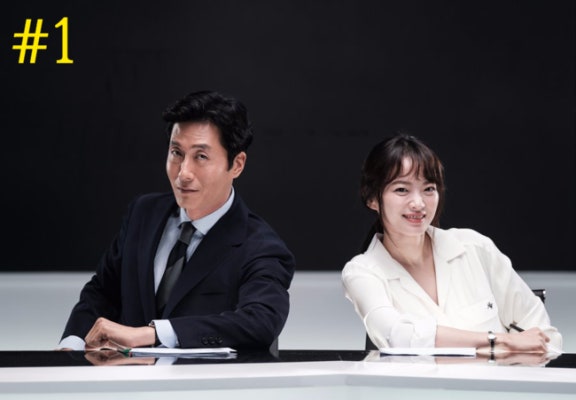 You should choose if this convinces you. I don't feel convinced because I think people have many ways to say what they want to. In this case, Baek Jin's responsibility is to give his trainees good advice, appoint their mistakes and teach the right practice. However, he screams and humiliates them. He never worries, for example, about integrating the new journalist; instead, he contributed to isolating her, especially in the beginning. So, yes, I don't think he is a good leader as everyone insisted on the drama.
In contrast, I loved Lee Yeon Hwa. Chun Woo Hee mastered her role and I really feel she was very competent playing it.
We need more female characters as Yeon Hwa. She is persistent, hardworking and dedicated to doing her best. She really made her best effort to be worthy of her opportunity to be part of the Argon team. She worked a lot and she complained little. She shows her best even when everyone was just looking at her worst.
Here, I think the author created an unnecessary tension between her and the team. First of all, they treated her as "mercenary" because the "temporary contract employees" had substituted more experienced journalists, but they never talked about these colleagues. Moreover, they hated her until the end, which causes problems for the end of the drama. After all, they couldn't stop hating her, and this doesn't make sense when she has already proved her value. However, we needed more feelings between them for their last scene to make more sense. I confess I watched that thinking her co-workers were very hypocritical.
Another problem was the fact that the author created an unbalanced team. For example, they had accepted each other very well while they discriminated Yeon Hwa, but Lee Jin Hee (Min Ha) had minimum relevance for the team and she betrayed the group by sharing information with their "enemy" [Yoo Myung Ho played by Lee Seung Jun]. However, no one talked about that and when she confessed it to Hye-Rin (Park Hee Bon) (another member of the team), the last just accepted it as "the team is causing us trouble". So, the tension about this subject was much more "a component of the drama" them a "fact in the drama reality".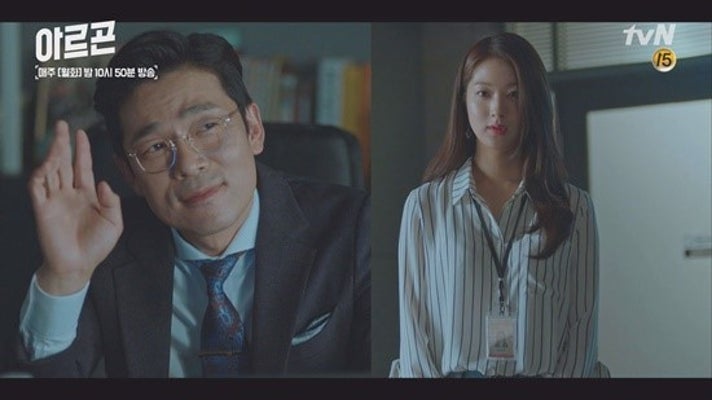 I'm talking about these subjects because they cause certain discomfort in me because Yeon Hwa was a really good character, but she would have had more potential if they had explored more the relation between her and the team.
Comments about the Plot [major spoilers]
This drama had a pretentious objective which was to discuss ethics in journalism. In fact, the author found time to judge the drama authors. That is ironic because Argon is a drama and one with all the elements of a typical k-drama if we look through the scenes.
We know more than we need about Baek Jin's personal life. We know that he married a university colleague and they had a rebel daughter: Kim Seo Woo (Ryu Han Bi). She hates him because he is a workaholic and abandons her frequently to go to work. We had many scenes about this family drama, which didn't contribute to the plot development. There was no real scene between father and daughter, for example. This subject just emphasized the idea that he is a person who needs to improve as a human being. [However, we saw that every character defends him as a good person, so obviously the author messed up something here.]
We also didn't need a romantic line in Argon, especially, if this is not an interesting one. Chae Soo-Min (Shin Hyun-Bin) is a successful lawyer, who suffers because her platonic lover married her best friend. Many years later, he became a widower, but he hasn't overcome his wife's loss yet and he pretends not to notice the interest of Soo Min for him. So, one day she took a wrong decision as his lawyer and friend, and she decided to use her affection as justification. Since then, they took different paths until he needed a favor and called her and she went to help him.
This is an attempt of a romantic line which was completely unnecessary if we don't realize how this is part of k-drama pattern. However, let's notice how this is a bad romantic line:
We have the cliché of a second lead who is best friends with the female main lead.
Why would a successful, beautiful and young lawyer be waiting for years for a man who pretends not to see her? It is pitiful to see this kind of woman in k-dramas.
She pretended to be his friend to feed her obsession. He pretended the same for what? He needed a lawyer? He was feeling pity for her? Again, it wasn't necessary.
She used her platonic feelings to explain the reason for having acted unprofessionally.
She attended his request after their break. As a woman, I felt this scene to be humiliating for her.
So, yes, I didn't need this storyline, particularly because this drama had 8 episodes. There was no time to spend creating this kind of romance if there were better options.
Which could have been a better option? Focusing on investigations, since this is a drama about investigative journalism.
Ethics versus Corruption: plot deviation
The plot has two aspects: one, about the ethics of journalism, which only consist on telling the truth, and the second about the corruption inside the channel in connection with the corruption in politics.
During the drama, the author explores mostly the second aspect. However, his intention is to discuss the first. He wanted to create a drama about how journalists find and protect the truth but he didn't focus on journalism as a profession. There are few scenes about investigation itself. We just know the results but we don't know how they got that information.
All the emphasis of the drama is on the corruption and politics. Here, we can see how this drama shares the same structure of many recent k-dramas. Over the year, we have been watching many dramas with the same issue: how politicians make political decisions on their own behalf and, then, try to cover the truth. That generates the pressure over the media to falsify the facts. The "politics" inside the channel will determine what facts can be said and how. Therefore, we saw many scenes in which the director or the board hold meetings to discuss the content of Argon program.
Baek Jin and Myung-Ho also represented this issue, the ethical journalism versus the corrupted journalism that accepts to negotiate with politics. However, this could be a generic question. For example, if Argon was a hospital. The questions could have been: Should hospitals treat clients with privileges? Is a VIP area a good policy? Do poor and rich have the same access to the right and punctual treatment? And so on.
In other words, the questions and answers proposed by the drama are pretty generic. It occurred because the "investigative journalism" was much more of a secondary factor than the main issue itself. The author didn't discuss how journalists investigate and how they find the truth but how the truth should be protected from the corruption. So, the problem is not how to find the truth but how to eliminate the corruption from the media. In that sense, the drama has an objective, but the plot deviates from it.
Production
I don't need to say much. The production of TvN dramas has been very good for the 2017 dramas. Argon follows the standard of Secret Forest (or Stranger) in terms of the quality of their image, scenarios, etc.
The OST list wasn't long, only 2 songs:
달의 정류장 (The Moon's Station) (Feat. Jo Won Soon)
청춘위로 (Comforting Youth) (Feat. O.WHEN)
Score
I will be sincere. If I was just considering the plot, I would give Argon a lower score than I gave. However, the actors worked hard here and despite the issues with the plot (from which I expected much more) I could enjoy the drama in many parts. I especially loved all about Yeon Hwa.
So, I will give this drama 8/10. I'm sorry for that, I really would like to give it more, but the plot is very weak in many points and there are only two points to make up for all that: performances and one very good character.