I finished While you were sleeping. I've already written about the first four episodes and I liked it so much, as you can read here. So, today, we will talk about the other 12 episodes and discuss the development of the entire series.
How to read this review: The text has minor spoilers. I will mark all of them with a different color. The important spoilers are visibly announced as a "[Spoiler]". My personal opinion will be in italic.
Plot
This story moves around Nam Hong Ju (Suzy). She is a girl who can dream of the future. She had never met anyone like her until she crossed paths with Prosecutor Jung Jae Chan (Lee Jong Suk). Their fate became definitely connected after Jae Chan saved Hong Ju. Also, in their journey, they will meet Han Woo Tak (Jung Hae In), a police officer, who also has the same gift.
The drama is about how they can use their dreams to save or help people around them.
This is the basics you need to know about the plot.
 Characters and Actors
I wrote that "Suzy is doing a VERY good job so far" and my opinion is the same after the ending of the drama.
I read many critics, during the drama, and people were saying that Suzy hadn't improved as an actress. However, what I saw was Suzy making a noteworthy effort to take her role seriously. So, she is trying to become a more competent actress, and her effort was visible. Secondly, Hong Ju fitted Suzy very well. So, yes, I concede to the argument that to judge precisely whether her improvement was real, we need to wait for her to accept another drama. However, I don't think she deserves all the critics and prejudice in this drama. In comparison with her character in Uncontrollably Fond, her role in While you were sleeping wins in two aspects: better performance and a more relatable character.
I liked her acting in this drama because she could display a strong but feminine role. Hong Ju appeals to the stereotype of the "feminine" in the sense she is cute, beautiful and a damsel in danger. She also breaks this stereotype when she is a smart woman with a voice and an attitude. In many moments, she is the one who guides Jae Chan to take the right decision and offers him a strong and real emotional support. Also, it's worthy to mention that almost all progress in their relationship is made by her: she declared herself first, she kissed him first and etc.
She loves her profession and, during all drama, we won't see her complaining about the boss or taking her job carelessly. She was presented in every moment as a competent and passionate professional. She has a typically "male" job, covering important news for television and talking about subjects as crimes, corruption, killers, and others. In other words, she wasn't building a "false" career but a solid one. [I feel sometimes the dramas show the difference between male/female employees but they don't advance in the debate because of the romantic line and in many cases, the girls give up their dream after finding the prince. Some exceptions are Night Light or Ms. Temper & Nam Jung-Gi (click here)…]
Additionally, she was an active subject of her own destiny. It's true that she needed Jae Chan's support to get rid of her fears since she couldn't find hope herself because she had a traumatic past and an environment (her mother influence) that prevented her from being braver. However, once she found a ray of hope, she took that opportunity courageously and unhesitatingly. She even was active to make Jae Chan her accomplice in this mission.
He wasn't very resistant but he needs her "guidance" to understand that working with her was the best way for him to become a better prosecutor because in that way he would be able to help people to avoid their tragic destiny.
Thank goodness, he wasn't hesitant because we definitely don't need more guys who are "coldhearted" and struggling their feelings because they are internally hurt by their childhood or family traumas or any other similar sleepy plots that we are used to seeing in dramas. Also, as he needed time to decide and he took a decision for himself, he wasn't exactly a knight waiting for a damsel to save either. His feelings were developing during the drama and, slowly, they became love rather than remains as a mission as a prosecutor or a moral duty.
As an actress, Suzy faced the kissing scenes with professionalism, which means that she kissed Lee Jong Suk as their characters were real adults. Their kissing scenes didn't cause me secondhand embarrassment as this kind of scene generally does [Do I need to remind you of Park Shin Hye's kissing scenes in Doctors?]. I feel it's quite embarrassing seeing adult actors (and characters) acting as the kiss of their characters was always their first.
Does this comment seem stupid? I don't think so. Kisses in k-dramas are a problematic point because they tend to infantilize the women. Weird kissing scenes between two adults are quite embarrassing because the intended result is to show a "pure" love convoyed by a pure woman. In the opposite way, the man acts like someone capable of guiding the woman in the romantic experience. This kind of scene, whether because the actresses feel uncomfortable to play it or this is the standard of kdramas' kissing, fails to represent a real romantic relationship frequently and plays against the women.
I observe that this "pattern" for kissing scenes is changing and the dramas are trying to show the romantic relationships in a more natural and realistic way. The Package also tried to put on screen a bed scene, showing that young, healthy adults can also have sexual desire. Both scenes are an improvement; however, the kisses or other similar scenes can't become a solution for a weak plot… which it's not the case of While you were sleeping, but seems to be the case of Temperature of Love.
To conclude this part, a kiss scene can symbolize the empowerment of the woman in the drama if, in the context, it represents a woman who is more confident in her feelings and her desires. This is absolutely true to While you were sleeping. Hong Ju never vacillated about her feelings, avoiding a childish love triangle. She never attempts to give Woo Tak a glimpse of hope; on the contrary, she always motivated him to find a crush by ignoring all signs of his interest on her without creating a (unnecessary) tension on the friendship among the three characters. She also progressively revealed her love to Jae Chan in an objective way, without games and taking the initiative.
In summary, almost everything about Hong Ju and Jae Chan was really refreshing!
Lee Jong-Suk is good at playing clumsy roles. His acting wasn't different from or better than his previous works. When dramatic moments came, he was able to play them very satisfactorily. Having said that, let's discuss his character: Jae Chan.
I like Jae Chan, he is the hero of the plot, but he is not the only protagonist. All three characters are protagonists: Jae Chan, Hong Ju and Woo Tak.
I wrote previously that Jae Chan is not super smart or has a too complicated personality; also, he isn't darkish, too serious or obsessed to be the most righteous person in the world. He is just a person who studied hard to fulfill a promise he had made to his father. Also, we see since the first scene that he takes care of his younger brother and they live alone. I feel he brings an atmosphere of "normality" for the drama. This is great, because it makes the character more relatable and, consequently, more enjoyable for us.
In this review, I want to emphasize the fact that Jae Chan is a well-intentioned person, but also immature and inexperienced. So, his storyline involves a process of becoming an adult, finding his way in this world and constructing a relationship with his love interest. So, we will watch how he grows up during the drama because of his relation with his co-workers and with his new friends, as well as how he is going to develop his sense of justice in order to be a better prosecutor.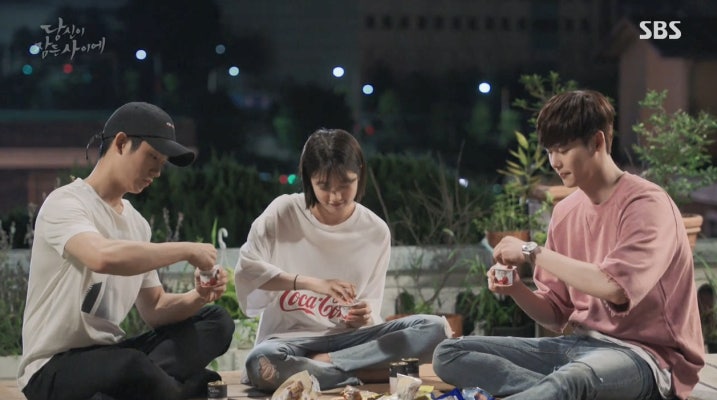 Also, he will take responsibility for assuming a future together with his friends, especially with Hong Ju. In this sense, the couple will work as a team.  I love it! It's very rare to find this kind of "male-female partner dynamics" in k-dramas, in which the three main characters don't form a romantic triangle and the couple works as partners and, particularly, where the female takes an active role in her own destiny. I told you guys! This plot is so refreshing in the kdramaland!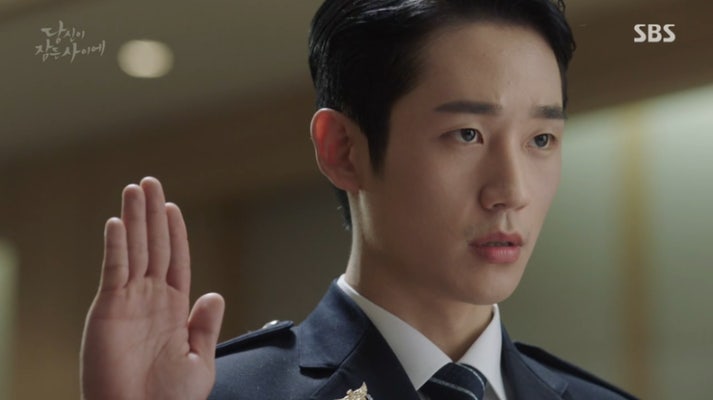 I promise… ahh… no, I'm kidding. During this drama, we could see more of Jung Hae In's performance as the police officer Woo Tak. Hae In is a new actor. He started acting in 2014 and has been playing mostly supporting roles. This is his first second-lead character. In my opinion, he did a good job! I liked his sweetness and he could play his dramatic scenes well.
I just didn't like Hong Ju's mother. In comparison to the overall k-drama mother, she is caring and supportive, and those characteristics made her incredibly nice. However, she is also very authoritative. In many moments she tried to control her daughter's decisions with the excuse she was protecting her child. Despite that, Hong Ju was decisive and argued with her mother to defend her point of view. In general, I loved how the daughter faced her mother as an adult, but respectful, person.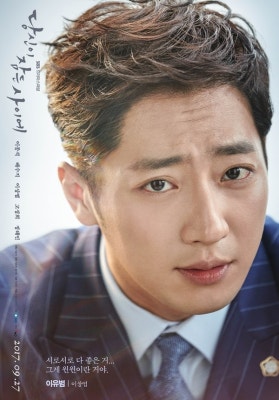 Lee Yu Beom is the antagonist. I don't think that he played a refreshing character, but the way that it was written made the plot was more pleasant. Yu Beom appeared just when his participation was necessary to the drama development. The author didn't feel the necessity to show us how he was evil, cruel and full of intrigues all the time or exaggerated his negative personality. These facts were becoming more clear and specific each time he appeared without the need to make us feel overwhelmed by his presence and evilness. Also, she kept room for his complexity, which made him seem more realistic.
I never understood completely why he wanted to become a lawyer, because he wasn't presented as a greedy person, but as an ambitious one. He wanted to be successful and recognized in his profession. His ambition could have been satisfied as a prosecutor as well as a lawyer. However, as he needed to be the antagonist of a prosecutor, he couldn't be one. So, this is why he became a lawyer. Also, we can assume that, after conquering acknowledgment as a prosecutor through unethical methods, he had to give up his career as a prosecutor in order to protect his achievements. This logic is what explains his actions at the end of the drama. He wanted to protect his ambitions and pride, so he took extreme measures to hide his faults and failures. In this sense, the last dialogues between him and Jae Chan were very well planned by the author, who could write them clearly and nicely.
Other actors worked very well. I just have words of praise to Min Sung-Wook (who played the Prosecutor Lee Gi Kwang, one of Jae Chan co-workers) and Kim Won-Hae, who played the investigator from Jae Chan's office. Lee Yoo-Joon played a nice senior partner to Wook Tae. Also, Park Jin-Joo, as always, nailed the comic role as Jae Chan's secretary. Bae Hye-Sun, one of the female prosecutors, also played her role very well, I grew fond of her during the series.
Production
SBS made a good work producing this drama. There were many beautiful scenes. I liked better While you were sleeping's filmography than I liked this aspect of Doctors (both dramas have the same director).
However, I can't omit that the drama followed the tendency of filmography started with Goblin and continued by The Bride of Habaek and other recent dramas. If Love in the Moonlight's plot was a reference for the sageuk's author during this year,  Goblin was the reference for the kdramas' directors. It was good that the director avoided the pastel colors, another recent trend among kdramas.
The OST was a relevant point in this drama. Famous singers, as Roy Kim, Eddy Kim, Henry and Davichi lent their voices to it. Suzy also sang two songs, as well as Lee Jong Suk. [You can find the full OST list and MV's at the end of this text.]
The author: Park Hye-Ryun
I want to say one thing about the author! I've seen a clear progress on her work since I Can Hear Your Voice (2013), her first drama I watched. She deserves appraisal for it. Her capacity to learn from her mistakes and fix them is impressive because many of the authors just repeat their formula instead of improving it, or they improve it less than desirable. That shows us the little self-criticism between authors when the audience gives them numbers enough to keep writing the same story over and over.
Also, I liked how I could perceive her effort to create a structured and balanced drama. It was very clear how she stopped and thought about the sequence of scenes, for example, the best moment to insert a comic or dramatic scene to make a balance between drama and comic relief. She also created tension to make a "dramatic" plot, but she made movements to solve the tension and make the plot progress. She solved minor issues before we could start to hate the character that she wasn't going to abandon. It makes total sense: if you make us hate someone or you should punish them (to satisfy our sense of justice) or make their redemption (this is almost never convincing). In other words, she was careful not to spoil the character for us, but she used them properly to create suspense, drama and make us feel other emotions.
If I had to describe this drama I would choose two words: balance and warmth. The plot was very well planned and the feeling I got watching it was warm from human relationships displayed on my screen.
It's absolutely right that Park Hye-Ryun won a fan after this drama. I'm looking forward to watching her next drama.
Final comments
The plot has a central problem that must be solved over the episodes to lead the story until its conclusion. It is the dream of Nam Hong Ju about her own death, which led us to a question: is it possible to save her or prevent her death?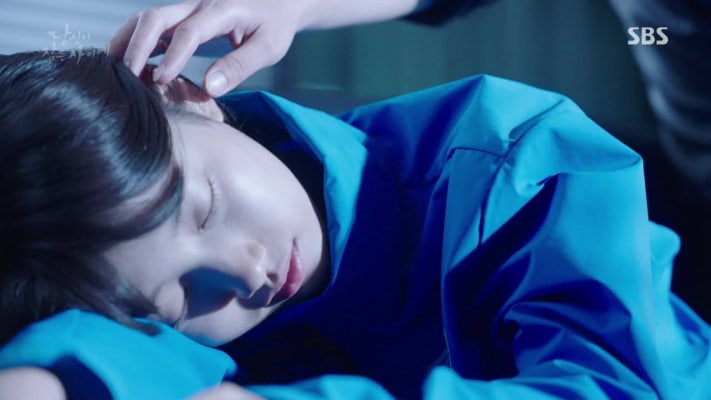 However, this is not the only storyline. This drama is a supernatural one, but also a childhood-romance. Therefore, we are presented to how the two protagonists met each other in the past when they were children. Also, the author will show us how they recognized each other in the present and how both meetings are connected. So, their past is the second side-story of this drama.
In the beginning of the drama, we discover that Hong Ju and Jae Chan lost their fathers because of a soldier who deserted from the army. Then, during the funeral, they saved the life of the soldier's older brother, who tried take his own life because he felt overwhelmed by the guilt for his young brother's actions. This character will be important because he will help the main-storyline to reach a satisfactory conclusion.
One part of the plot tells us about justice. Here, we have an antagonist, the lawyer Lee Yu Beom (Lee Sang Yeob). He is a former prosecutor who received an award for arresting a serial killer and, then, he quit this job to work in a firm, as a lawyer.
Yu Beom believes that he can control the law with his knowledge and other methods. He is more worried about his positive results than the ethical consequences of his actions. Therefore, he is the antagonist. His belief that results are more important than methods will press the "ethics button" in the plot and his actions will motivate the reflection about the prosecutor's job.
The second part of the drama discusses the tension between fate and free will. The big question is: if you know the future, can you change it? If you can, how will this affect the sequence of events? Even if you know the future, can you accept your fate?
These questions appear because the main characters dream with the future, but does the future become completely predictable because of it?
Personally, I like the answer of the author for both storylines.
If you have watched one of her previous dramas (especially, I Can Hear Your Voice), you know that this author has an optimistic perspective on justice and human nature.
[Spoilers]
Since the beginning, she shows us that the facts should be investigated, even if they are probably false. Investigating is the right thing to do because the empathy to the other's stories should prevail over the bureaucratic process. [For me, this is an interesting point, because there are many investigations about how to humanize and make the legal system more efficient and fair by reducing costs and time in the legal process when the investigation takes time and effort, which multiplies costs. If something is expensive, fewer people have access to it. Likewise, if the justice is expensive or takes too long to judge a cause, then it is possible that the results can be not that satisfactory. All that appears in the critics that Jae Chan receives from his colleagues and, mainly, from his boss.]
Moreover, for the author, anyone can manipulate the truth without facing the consequences. The truth will prevail because what you do wrongly will cause other consequences and they will trigger a chain of actions-and-reactions that will bring the truth to light. In that case, the methods matter because one can't say whether something is really correct without the right procedure to determine the truth. It's not right to bet on the truth because when one does that, this person is betting on the other people's lives.
Take as an example one of the Jae Chan's cases as a prosecutor. When Hong Ju saved a girl, one of her brothers was killed by the other. We could have thought that the destiny shouldn't be changed. However, the author shows us that the change in the fate made possible a terrible truth come to light: the real face of the cruel brother. We don't know the other possibilities, but the author meant that the fate moves towards the truth. [We can agree or disagree…but she was able to make a clear argument and defend it.]
In addition, the author believes in the innate kindness of the human. She will show us that even when one can prevent future bad events, it's possible for this person to choose not to do so because the bad event will favor another good cause. In that sense, sometimes humans can sacrifice themselves for the others. The possibility of accepting the fate is very clear here as well the possibility to change it. However, I noticed that in both cases the effect is only one: to establish the truth and justice.
Finally, I like the fact that the dreams of Hong Ju and Woo Tak can complement each other, which shows that sometimes reality presents us with possibilities, and not just ONE but many. Following that, Jae Chan is an interesting character because he is always being pushed to choose and he is always making a choice (actively) or creating another path. So, yes, I really like how the author presents the "free will" in a drama about dreaming of the future. [end of Spoilers]
Is the plot coherent? No entirely. It's almost impossible for a story about changing the future to be completely coherent, because the subject is complicated and difficult to be discussed, as there are many physical and philosophical implications of this subject. However, the plot tries as coherent as possible and, in my opinion, the author succeeded in that sense.
Score
Was the plot perfect? It wasn't, there were a few issues with the coherence, but those were tiny details. The overall experience was very satisfactory and enjoyable.
It was the best romantic dramas and it one of the top 3 k-dramas I have watched this year. It's better than Legend of the blue sea or Suspicious Partner, dramas which are in the same category of While you were sleeping.
The plot was very well written, the storyline was mostly coherent and the events progressed with a balanced rhythm, the characters were likable, the general story resulted in good feelings (warm, empathy…), the production aspects were very satisfactory and efficient. Finally, the ending was consistent with the development of the entire story.
So, for all these reasons, my score is 10/10.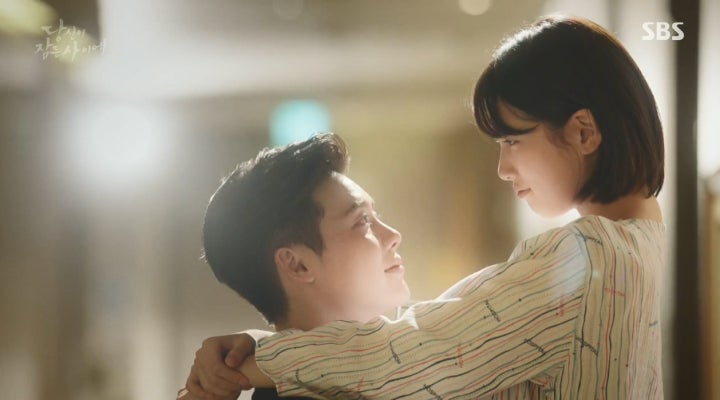 ♥
♥
♥
OST
Above you can see the list of the main OST for While you were sleeping. I posted my favorites songs because there were many songs on the list.
If you want to access the complete list with all song, visit: this youtube list (click to access) another alternative is a Spotify playlist (click to access).
| | | |
| --- | --- | --- |
| 1 | "When Night Falls" (긴 밤이 오면) | Eddy Kim |
| 2 | "It's You" | Henry |
| 3 | "You Belong to My World" | Roy Kim |
| 4 | "I Love You Boy" | Suzy |
| 5 | "While You Were Sleeping" | Brother Su and SE O |
| 6 | "Your World" (너의 세상) | SE O |
| 7 | "Lucid Dream" (자각몽) | Monogram |
| 8 | "I Miss You Today Too" (오늘도 그리워 그리워) | Davichi |
| 9 | "Maze" (미로) | Kim Na-young |
| 10 | "Come To Me" (내게 와) | Lee Jong-suk |
| 11 | "I'll Tell You" (말할게) | Jang Da-bin |
| 12 | "IF" | Jung Joon-il |
| 13 | "Would You Know" (그대는 알까요) | Lee Jong-suk |
| 14 | "Words I Want To Hear" (듣고 싶은 말) | Suzy |