Go Back Couple is starred by Jang Na Ra and this should be reason enough for many viewers (including me) to watch this drama. I will try to review this drama fairly.
I hope yo enjoy this review!
Plot:
Go Back Couple is starred by Jang Na Ra and Son Ho Jun as a couple, Jin Joo and Ban Do, whose lives are in crises, as well as their marriages. Their conflicts reached the peak when the wife believed that her husband was cheating on her. In this complicated scenario, the next step was the divorce and, it is at this point where the story really starts. Both are sent back to the past, in 1999, when they met for the first time and fell in love.
The plot of this drama can be divided in four parts:
Introduction: they present the characters' problems in the present.
First part: they meet in the past and they hate each other because of their sorrows from the present.
Second part: they start to interact in the past.
Third part: they face their current situation and decide what to do about their lives from now on.
In the introduction, the viewers are presented to how badly the main couple formed by Jin Joo and Ban Do was living together until the point that Jin Joo believed Ban Do was cheating on her and, therefore, they decided to divorce. [Of course, we will discover other reasons for their marital crisis during the drama.] Here we know the basics of the plot, which you can read on the synopsis of the drama.
Comments about the main story-line
However, let's stop here for a second and start this review for real! [There are minor spoilers without marks, but the big spoilers are visibly marked. The text in italic are my personal opinion about the drama].
In this introduction, we see a husband working hard to be the family provider. He works in a precarious job, he sells medicine to doctors at a big hospital. This is a bad job because the doctors despise him and abuse of his low position to take advantage. As we know, from other dramas, this situation is normal in South Korea.
So, the husband feels economically and personally impotent in front of his wife. On the other side, his wife is all day at home doing all the invisible job that many women do but never receive proper acknowledgement for. This is not different for Jin Joo. She is tired, stressed and feeling abandoned with a little child, while she is living all the transformation and insecurity proper of the first motherhood. Also, we can see how her husband looks down on her very often.
Despite this scenario, the drama will never discuss the fact that the mother needs a supporting network; so, the husband's absence will be never a real problem because he is working. Also, the traditional role of the women will never be questioned, because the husband will never realize all house chores and child responsibility that depend on Jin Joo.
We only can see that the shadow of "savage capitalism" is present in the entire drama, especially in the first episode. We are led to believe that, if that husband had more time for his family, he would be a good husband. Also, we need to observe that his role as a father will never be questioned. In fact, the drama insists on happy scenes in which Ban Do is a good father, who plays a lot with his child. However, once again, we never see him really taking care of his child except for during the leisure time.
I have a question for the author: in all the scenes when he said she is crazy, she is not beautiful, or she couldn't have had a first love (in order words, every time he looks down on his wife), was Band Do acting pressured by the system? I don't think so.
I believe all this plot has a perverse lie that the author decided to put on screen for the housewives. Their husbands aren't abusive because their work hard, but because they believe that it's ok to despise the person by their side when they can't see all the hard work they also do all day. Men and women don't have equal rights and responsibilities at home and outside. There is a overvaluation of male efforts but an invisibilization of women's efforts.
I bet you can read better texts about it than mine. However, my idea is to show that the drama convoys a wrong and negative perception about marriage, motherhood and other family themes.
Ok, now, let's talk about the first part of the drama. I really don't like this part because it's like a continuation of the first episode. During 5 episodes, we can see how they hate each other and, specially, how Jin Joo  is always passive and Ban Do is always aggressive using very bad words to talk to her. He avoids her sometimes, but most of the time he is sarcastic and tries to look down on her.
He went to meet his first love, the ballerina Min Seo Young (Go Bo Gyeol).I'm happy that the author don't choose the plot "bitch female second lead" and I liked Seo Young.
Jin Joo also crossed paths with her first romantic interest, Jung Nam Gil (Jang Ki Yong), a sexy senior at her university. I have to say I felt sorry for Jin Joo in this part of the drama because she kept her "ajhumma" mentality all the drama and it prevented her from flirting with Nam Gil or understanding that – for a certain period – Ban Do was flirting seriously with Seo Young.
[I think her his in this "romantic" scene can explain my point.]
Also, he was constantly reminding her that she was a mother and, then, how could she flirt with a guy knowing that her baby was waiting for her somewhere? Ban Do, of course, took 4 or 5 episodes to feel the same way and woke up from his youth dream.
I feel that Jin Joo was all the time linked to her son and her present life, while Ban Do could experience his feelings and make his choice.
I'm really trying to be positive about their relationship in this first part. The only way to understand the drama differently is believing that he behaved in that way because he was jealous and because he believed she did not love him anymore. It's up to you.
The second part of the drama started when Ban Do and Jin Joo joined forces to take revenge over Dr. Park. In the future, Dr. Park is the horrible boss who bullied Ban Do. In 1999, he cheated his ugly but rich wife in order to be a successful doctor in the future. Jin Joo and Ban Do's plan is to make them break up by revealing the truth about his bad heart. After that they start to talk. Ban Do starts recovering his good feelings for Jin Joo and remembering why he loved her.
So, finally, we have the third part of the drama, when they establish a friendship (in the new 1999) and Ban Do tried to reconquer his wife. Here, they had two or three sincere conversations about their marital problems and it helped them to understand each other better. Again, I feel that she made a much greater effort to understand the pressure over Ban Do than he understood that she was alone all the time. He will understand that point better at the last episodes, but I think he reckoned that he had to be more supportive emotionally but he didn't have to rethink his role at home and as a father. But, many will be defending him saying that a progress is always a progress.
[Spoiler]
I didn't like the last episode.
Let's recall: in the 11th episode, Jin Joo had said that she didn't need a protector but someone by her side, to share the sorrow. He had run to her, because they decided to share the sorrow and back to the present to their son and their life. He suffered an accident, and changed his mind… In the first few minutes of the episode, Ban Do gives up of their future (including their son) to give Jin Joo a happy ending. He acted ignoring what they had talked about their future in the last episode.
In this sense, the first scene of the last episode was totally unnecessary, considering he had decided to go back to the future and fix their relationship. I think the author needed some minutes to fill the schedule…Anyway, Ban Do woke up of his stupid and unilateral decision, but he just did that when one of his friends told him that him and Jin Joo love each other. [Omg, he needs a 20-year-old boy to tell what he should know.] So, he went to Jin Joo and asked her to return to their son. Finally.
In short, all their problems are solved in the future, when he discovers that an investment he made in the new past worked and this made them "rich"; because of that, he had time for his family. [I was questioning what this drama has to say to the families who remained poor and haven't won the lottery yet…]
The rest of the episode was how things changed in the future after their travel. It's good to know that they completely forget about Go Dok Jae (Lee Yi Kyung), but told us how most of the characters were living in the new 2017.
Commentaries about side-stories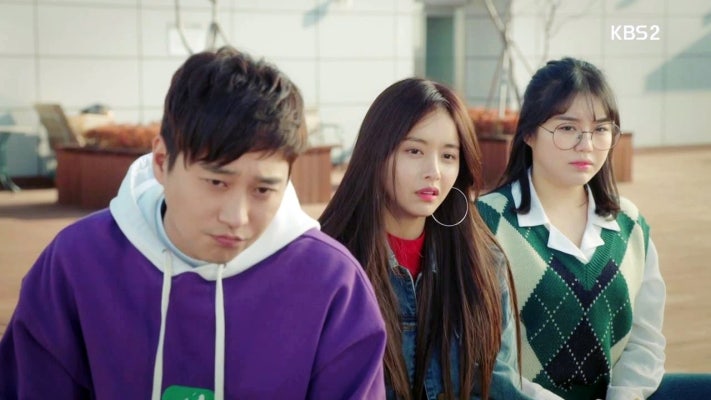 Yoon Bo Reum (Han Bo Reum) is Jin Joo's friend and An Jae-Woo (Heo Jeong Min) is Ban Do's friend. Their romance was a nice side story.
Bo Reum is a girl who has grown up in a house with 3 brothers and because of that she wants to make room for herself. An Jae-Woo is the opposite. He is a very typical teenager, full of insecurities. Also, he has an "normal" mentality of a boy in the 90's, so he has problems to understand Bo Reum.
However, despite the differences between them, they could construct a relationship. Bo Reum made him feel confident and manly.  She supports him in many moments. He could understand her personality and her feelings. I liked how they were progressively adjusting themselves to one another.
However, they broke up because Bo Reum couldn't get pregnant and she broke up without telling Jae Woo the truth. I will skip here all the discourse about the pressure about the woman be a mother in our society, but what she did was put the motherhood  before others objectives for her life and for them as a couple. In the new present, they could solve their problems. If the drama had used their time more wisely, their end would be better. The way the author wrote the end seemed rushed and, as they were the second couple, they deserve a better work on their ending.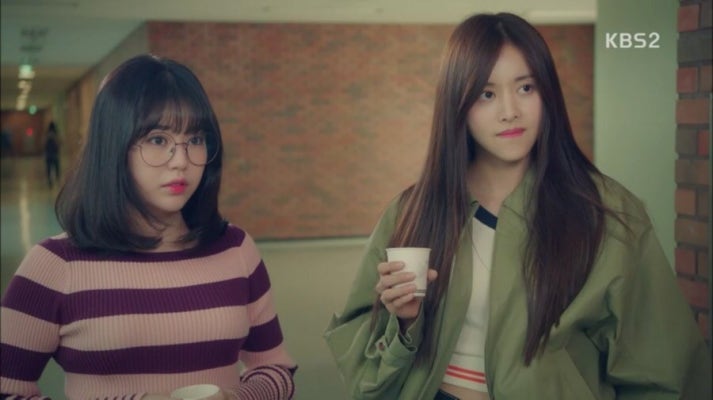 I liked Cheon Sul as a character. She learned, in the new past, how to have more fun and she received a second chance to keep studying. Her role talked to all young students who must make difficult decisions and become too serious. She grew in my heart during the drama and maybe she had one of the only endings I liked.
This was the only situation in which Jin Joo used her experience to help someone. Ban Do used his experience to help his first love. However, I think that if they had discussed less they could have helped their friends more.
About the side stories, sometimes I think the author didn't reflect about the story she was telling us and some lines don't match with the plot. Cheon Sul overheard one of the discussions between Jin Joo and Ban Do and misunderstood everything, but even so she accepted that Jin Joo had a relation with Ban Do and they had a child, and she supported that Jin Joo had the right to have a new relationship with another guy who really loves and respects her. So, when Jin Joo and Ban Do received a call from Cheo Sul and commented on how "independent" she became, I couldn't hold my surprise.
Go Dok Jae (Lee Yi Kyung) made a very caricatural character with some disgusting scenes, all of them unnecessary and scarcely funny.
As this is a drama with very traditional family values, Jung Nam Gil found his way to recover his own emotions. Jin Joo, as a caring mother-friend, helped him to understand himself as a warm and good person and because of it he could overcome his family trauma and make for himself a family in the new present.
What is the problem?
The author and director of Go Back Couple are unexperienced. The author only worked to adapt the Sound of Your Heart from the manhwa to the screen. This means that she didn't have experience working in an original material and this is visible on the drama. There is some lack of logic and many weak dialogues. The humor was copied from the Sound of Your Heart's style, which is obvious when we think about Go Dok Jae. The director couldn't help too much here, except for some good shots. I think the director abused of pastel colors too. I felt the the lack of someone with some experience to give this partner some good advices.
About the conception of world of the author, I can say we don't see eye-to-eye about the subject displayed on this drama. I can't say it's a source of problem, because each person has their own beliefs and expectations. However, I hope my review can help some viewers think critically about the plot.
Why do I keep watching this drama?
Because I just loved the relationship between Jin Joo and Go Eun Sook (Kim Mi Kyung), her mother. Jin Joo had already lost her mother when she went back to 1999 again. Because of it, she tried to construct a new relationship with her mother from her new perspective: as mother and as daughter-without-mother. All their scenes were precious, both actresses were amazing and that piece of love made the drama look more endurable. After all, I started this drama because of Jang Na Ra and she never disappointed me during the 12 episodes.
MY SCORE: 7.0
The score means: the drama wasn't bad enough to drop, but it is not good enough to recommend it.
♦♦♦♦
OST
Song: Go Back – Artist: Every Single Day
♥Song: Wind Song – Artist: So Hyang
Song: Dream – Artist: Lucia (심규선)
♥Song: Confession – Artist: Choi Nakta (최낙타)
♥Song: You and I – Artist: Lee Suk Hoon
♥Song: Amazing – Artist: Hong Dae Kwang