Today, the drama reviewed was chosen by the votes of a poll published on my Instagram @meudrama.
Apparently, everyone is very excited about While you were sleeping, which won with 72% of the votes. As Temperature of Love was the competitor, I was quite surprised with the results. I'm thankful to those who voted.
While you were sleeping was a great surprise!
I watched the first four episodes last night and, today, I'm here to share with you all my impressions about those episodes.
Let's start!
Plot:
This story is about Nam Hong Ju (Suzy). She is a girl who can dream of the future. She had never met anyone like her until she crossed paths with Prosecutor Jung Jae Chan (Lee Jong Suk). Their fate became definitely connected after Jae Chan saved Hong Ju. Also, in their journey, they will meet Han Woo Tak (Jung Hae In), who also has the same skill.
The three will be the "three flying dragons", as Woo Tak named them.
[In 1445, King Sejong the Great published, to promote the usage of Hangul, a book titled Songs of the Dragons Flying to Heaven. Taken from the first line of the first verse, the six dragons here refer to the ancestors of King Sejong: Mokjo, Ikjo, Danjo, Hwanjo, Taejo, and Taejong. As for the drama, it takes the motif into creating six dragons at the time Joseon was founded: three historical figures and other three fictional characters: source here ]
For them, the big question is: why are they able to dream about the future?
Nam Hong Ju is clearly excited about finding people like her, but she is putting all her expectations on Jae Chan, who seems to be capable of changing the future by his actions. It doesn't mean he has a special power, he is just trying to save the people around him. This is something that she had never done by herself before finding him. So, she began to believe that the future can change.
We will have to watch this drama to find out how they will work together to save the people around them.
Characters and actors
I had read many critics about Suzy's performance in Uncontrollably Found and everyone was worried about this when she accepted the role. However, no one needs to be afraid about this. Suzy is doing a VERY good job so far. I like how she teases Jae Chan, shows her interest in him and tries to support him. She is playing a young girl very well and I could laugh with her in many scenes.
In general, I am enjoying much more this character, Nam Hong Ju, than Noh Eul. The latter is the character played by Suzy in Uncontrollably Found. Both characters are essentially different. Noh Eul smiled to make her life look ok and she faced the world with sarcasm and skepticism. She had the bad behavior typical of the late k-dramas heroines. Those female leads think that being strong is acting arrogant and bad-tempered. So, Noh Eul is that kind of character. Besides Suzy's performance, there were many other reasons to explain why Noh Eul wasn't too relatable.
Yes, I prefer Nam Hong Ju. I feel that she is a truly kind and nice person, but it is also true that she is afraid of her fate because she could never change her bad dreams until finding Jae Chan. So, I think we will see many moments of transition between fear and hope. [It will be a shame if the author makes them play a cat-and-mouse chase. Instead, I'm waiting for a gradual progress in their relationship motivated by their teamwork, as I saw in the episode 4.]
I like it that Hong Ju shows her strengths and weaknesses rather than playing a typical bad-tempered heroin (as I described before). She is not afraid to depend on others and show her good feelings. However, this does not make her less determined and focused on helping others. I like how she answers Jae Chan directly.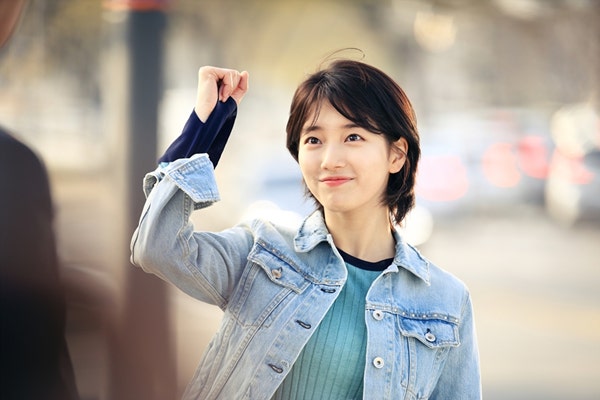 So, the dialogues between them are much more interesting and adult. This is what is supposed to occur in a good drama, right? However, this is also the opposite of what happens in Temperature of Love, where the main characters are playing a mouse-cat game and their lines are full of clichés or their scenes don't make any sense.
Jung Jae Chan is the male lead and he is a good character too. I like the fact that he is different from the other prosecutors we have been seeing this year in Suspicious Partner, Whisper, Stranger or Defendant or other many (many…) law dramas.
He is not super smart or has a too complicated personality; also, he isn't darkish, too serious or obsessed to be the most righteous person in the world. He is just a person who studied hard to fulfill a promise he had made to his father. Also, we see since the first scene that he takes care of his younger brother and they live alone. I feel he brings an atmosphere of "normal people" for the drama [this feeling will be strengthened by the presence of Han Woo Tak – I will talk more about him below].
Jae Chan is funny, especially because he has a very slow sense of how to conquer his co-workers and he is clueless as a young person is when they are learning how to be an adult. He is figuring out how to be a good prosecutor after passing the bar exam. His joyful personality reminds me of Park Soo Ha, who was Lee Jong Suk's character in I Hear your voice).
There is no question that Lee Jong Suk is doing the kind of work he is used to doing. There is nothing challenging about Prosecutor Jae Chan. His acting is exactly the same here and in W- Two Worlds. Sometimes, I had the impression I was seeing a mixture of Kang Chul and Park Soo Ha. However, he is good at doing it, especially playing the clueless moments of Jae Chan. Ah! Of course, the kiss scene wasn't a problem here!
Both leads are "heroes" in their own journey. In this sense, they are going through the hero journey. It's probable that they will "cross the first threshold" in the next episode and she will decide to restart to her professional life and face her fate. At the same time, he will have to choose if he will be part of this "adventure" or not. When both of them decide, we will see the beginning of the real journey.
The third "flying dragon" is Han Woo Tak (Jung Hae In – Tae Hee in Goblin and Tak in Night Light). I think he is having the opportunity to show us his skills as an actor. In my opinion, he is doing better than he did in his last dramas. Until now, I have nothing to say about him; for me, he is doing what is expected and this is a good signal.
Lee Yu Beom (Lee Sang Yeob) is the antagonist of this drama. He is a lawyer, who used to be a Prosecutor but he chose the money over the justice. If you ask me, he reminded me of Lee Jun Hee (the lawyer played by Yoon Hyun Min in Falling for Innocence). What does that mean? He will cause a lot of trouble because of his nasty behavior but at a certain point, he will realize his wrongdoings and will be fairly punished. The actor is doing his job well.
Also, there is a very good supporting cast:
Park Jin Joo (the funny nurse of Jealousy Incarnate);
Jang Hyun Sung (Department Head Jang of NIS in Man to Man);
Kim Won Hae (the reaper in Criminal Minds and the gangster in Strong Woman Do Bong Soon];
Min Sung Wook [the executive of the chip company in Circle].
Production
The production of While you were sleeping is beautiful, especially in the romantic scenes.
I like a lot the OST chosen for the couple. Eddy Kim – When Night Falls . Also, I loved the ROt Kim soundtrack too. Both of them are amazing singers.
When the drama finishes, I will have more to say about the production. Until episode 4, I enjoyed how the drama was filmed and I appreciate the care about the light. Sometimes, the light in the scenes made all difference to make the drama looks even warmer.
My Final thoughts
I checked all rom-coms that were on air this year.
I reviewed My Only Love Song (here), which I highly recommend. Also, I wrote a review of another SBS rom-com, Suspicious Partner (here).
I dropped almost all the other rom-coms that I tried this year. This happened, for example, with Temperature of Love (SBS), The Bride of Habaek (TvN), My Secret Romance (OCN), Radiant Office (MBC), Strong Woman Do Bong Soon (Jtbc) and Introverted Boss (TvN). [Maybe there was more, but I forgot. Ah, I'm not considering Weightlifting Fairy Kim Bok Joo and other dramas that finished in January. If you want to read about these dramas, I reviewed all of them: here]
That being said, it is clear that romantic comedy wasn't my favorite genre this year. My last try was Temperature of Love, but I dropped it after two episodes. This drama is not for me. If you want to understand the reason, I made a thread about my experience watching the first episode, which you can read on my twitter.
Therefore, I was feeling uneasy to try another rom-com, but I decided to give it a chance after I read some good comments about While you were sleeping and everyone voted for it when I asked which drama I should review.
The author of While you were sleeping, Park Hye Ryun, also wrote: Page Turner, Pinocchio, I hear your voice and others. Those dramas share the same warm feelings, and I appreciate it. Especially because I think many recent dramas are appealing for our negative feelings rather than our good feelings (as empathy). Also, this year I have seen many confrontational characters and very dramatic events happening (even in rom-coms) and all dramas sound too repetitive. Hopelessness seems to be a motto for many plots. Few dramas could represent everyday life or discuss social issues escaping from those characteristics. [Maybe, it's possible to say that the only drama that was really creative was Chief Kim.] So, yes, I think this drama is a great option for those who, like me, like romance, a little bit of comedy and some intriguing elements to move the things.
The dialogues in this drama are much better than in the current competitors. There are good dynamics and chemistry between the couple, but the all cast is working well together. My general feeling is that I want to keep watching this drama.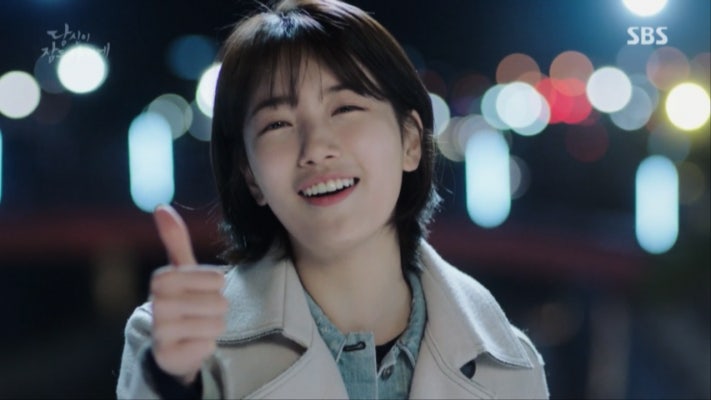 My score for the four first episodes is 10, but I think there was no need for that kind of hug in the first episode. It looked quite forced and the author wrote it to create an emotional reaction on the public. I think it works for many viewers, to understand it we just have to consider the good answer to this scene on all social media. However, even if the scene was aesthetically beautiful, the meaning was quite unnatural; for me, it looked more like "I'm reproducing my dream" than "I feel I need to hug him". This is a detail, and I will not cut points because of it.
While you were sleeping has the potential to be the best (regular) rom-com of the year. If we are going to consider minidramas, so, this position should also be disputed with My Only Love Song.
OST
parts 1, 2 & 3