This week some new dramas started:
Reunited Worlds (SBS)
Man Who Dies to Live (MBC)
School 2017 (KBS2)
The King Loves (MBC)
I really recommend that you don't watch Man Who Dies to Live (MBC). This drama is being too disrespectful to Muslim religion and customs. We are all free to choose. However, when we choose to consume a product, we are agreeing with the set of ideas and values that this product contains. Therefore, attending a prejudiced drama is the same as agreeing with the prejudice contained in it. So, please, don't consume a product that is contributing to spread prejudice against an ethical and religious group, which is already misunderstood and that is the target of misconception.
If you need my recommendation:  Reunited Worlds (SBS)
Having said that, let's talk about The King loves!
Plot:
Won, the crown prince of Goryeo, has a pretty appearance, but he also a lust for conquest. He is best friends with Rin who is a son of a royal family and his bodyguard. When beautiful San, the daughter of the richest man, appears in front of the two young men, the three become good friends, but things change after Won and Rin both fall in love with San. [Offical plot: mydramalist.com]
So, in short, there is no story to be told except for the love triangle. It will be clear in the next paragraphs.
Characters:
As we can read, there is no significant story here. Won is a Crown Prince which we saw in many other dramas: Ruler and Moonlight, for example.
Won became Crown Prince when he was very young. He was raised in the palace, without contact with the external world. His mother is hated by the Goryeo authorities because she is a Yuan princess and daughter of Kublai Khan. He grew up lonely until he became friend with Rin. So, they started to deceive the guards to explore the world and because of that Won knows better the people than the King, who starts afraid that her son can take his place. Because of this, some of the officials of the palace are pressuring the King to dethrone Won, because he is the grandson of another King.
Won grew up lonely. So, in the beginning of the drama, we see that Won was a very naïve young crown prince (as the CP in Seven Days). However, one day he met Rin and they became friends. From that moment, they started to deceive the guards to escape from the Palace in order to explore the external world. In consequence, Won could grow up and he learned that he needed to hide his intelligence and other skills if he wants to survive (as the CP in Moonlight).
Rin will be put to the test because of his love for the female lead and the complicated relationship between his family and the royal family. At the ending, he can become a character similar the Prince Yang Myung – played by Jung Il Woo in The Moon that Embraces the Sun – dying to show his loyalty. Another possibility is he becomes someone similar to Commoner Lee Sun in Ruler – Master of the Mask.
Eun San is a minister daughter and she is an award for who married her. [Yes, if this drama represents any aspect of Goryeo society very well, this aspect is the sexism.] Her father changed her identity to protect her and his family. Now, she is living as an ex-servant who was expelled from the main house after being incapable of protecting her lady when they were attacked in the woods.
Uhm Hyo Seop is playing Lee Seung Hyoo, a teacher. He is a very smart and he is loyal to the people, but he disagreed to the King and, because of that, he was expelled from the palace. Now, he lives in the village, where he is loved by the common people. Also, he hides his identity living as a drunkard. He will be the mentor of the Crown Prince, showing that he always has been waiting for the right ruler, and he never was a traitor as the cruel king and malleolus counselors had accused him. We saw this character in other dramas too: Hwarang, Ruler and Seven Days just to mention a few.
There are three villains in this drama. One is the counselor of the King, who seems to be the chief. He is manipulating Rin's bother, Wang Yeong, promising him the throne. However, there is a third part, a mysterious man with black hood and snake tattoo. He is the chief of a gang, but we don't know whether the gang are composed by mercenaries or assassins working for someone. The actor who is playing the counselor isn't very skillful and he's making his character looks a caricature.
Actors
I liked the young cast, they did the expected work from them and they should be praised for their starting career. 🙂 Fighting!
The supporting actors who play the officials and eunuchs in the Palace are very mediocre actors. They made the political aspect of this sageuk become a parody. Hwarang was very weak but was better than The King Loves in this aspect. The same can be said about the actress playing Court Lady Jo. Sorry actors and the actresses. but the Director is doing a very careless work here.
I think that the Director is doing a very careless work here. He should be helping this actor to put on screen their roles properly. My impression is that this drama was filmed on a rush.
Among the main cast there is no impressive performance. If I should choose one, I would pick Im Shi Wan, who is playing the Crown Prince. I think he more likely to adapt and, eventually, he will improve his performance.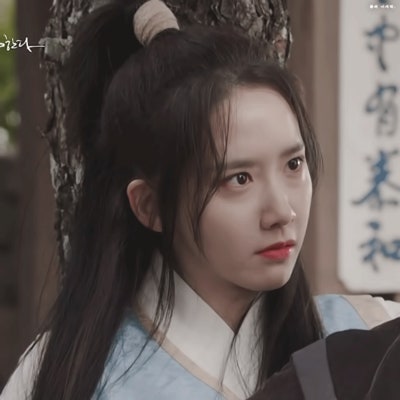 Im Yoon Ah is not a complete bad actress, but she needs more experience. She is better doing romantic scenes or scenes with simpler emotions. She is not too natural playing her character because she is forcing herself to be someone very different from her own self. So, yes, I think it will very challenging for her work in a sageuk.
I feel that it's a tendency in the kdramas, the producer is trying to make the kdramas look young and fresh casting idols and new/young actors. For me, it's very nice give a chance to discover new talents. When they casted Joy (Red Velvet) to be part of The Liar and His lover, I didn't criticize the choice and I understand the strength and weakness of Joy as actress. However, Yoon Ah already received critics for her acting in The K2; so, casting her for a sageuk was a risky decision because sageuk is a more difficult gender than a modern drama.
Other problem, Hong Jong Hyun looks old compared with his co-stars. I hate complaining about the age of the actors, but… here, I am doing that. When he appeared firstly on the screen, I thought he was the Crown Prince, but I was wrong. So, yes… that seemed another weird choice of the cast. He's not an unexperienced actor, so I don't get why he looked so uncomfortable in his role and acts too rigid. He was better in Moon lovers.
I don't think I will be able to feel sympathy for Won-Rin bromance. I see that the author and director are trying to emulate the bromance of Moonlight [and maybe they had The Moon that Embraces the Sun as a model too], but I don't think this attempt will work well.
Final thoughts:
The production of this dramas is not incredible. The scenography is ok. [Sorry, I read good words about this aspect, but I can't agree it's very average.] I think the clothes are weird and exaggerated, but it's for my taste.
The director is failing in put on screen the best of his cast. The actors aren't good.
I liked the OST [I love Roy Kim], but it didn't create an incredible romantic effect on the drama. As OST, it's just ok. The song itself is nice.
The plot has a weak premise without a love triangle conflict.
There is no originality, and all the drama seems a collage of other dramas.
I have the impression this is a very-very-very commercial version of a sageuk. It was planned to be a fan service for those who love Im Yoon Ah. It is destined for the teenager public. I'm not the target audience for this drama, so maybe this is the reason for my bad evaluation of this drama. However, I think the team behind this drama underestimated the youth producing a bad quality but good-looking product.
The ratings were: 7.8% (ep. 1) and 5.1% (ep. 2).
I dropped, I don't recommend except if:
you are a fan of any main actors
you are looking for a light drama.
It is not an unpleasant drama, I don't feel like: "Ok, I will turn off my screen because it's too bad". However, it's very predictable and there is no real attractive for watching it.
My Score:
6.0 – more than enough reasons to give up.
♥
♥
♥
OST