During the last week, I watched Ms. Temper and Nam Jung Gi (2016) [or My Horrible Boss on Netflix].
On Mydramalist, 9.2% of the viewers dropped this drama, It's a high number, right? Let's tried to understand the strength or weak points of this drama.
Lee Yo Won played Ok Da Jung, who is a strong woman, with solid character. She has clear moral values, she desires to be proud of her work, she is stubborn against who want to take advantage of her and she doesn't accept to be mistreated because she is a woman or subordinate to someone.
She almost never received the credits for her successful actions. It just started happening in the last third of the drama, before that there were always excuses for her success, and all of them based on cruel gossips.
She received the nickname "Ms. Temper" because the world is not ready to accept a woman who stands up for her ideas and fight for her objectives and don't accept to be labeled as fragile, less capable or submissive just because the world says that woman should be like that. The otherwise, if she was a man, she would be labeled just as an amazing business man.
I think that, even if I didn't love this drama as I was expecting to like it, she is one of my favorite character in dramaland.
I love how she changed everyone around her just being strong on her own convictions. She was capable of showing to her employees the importance to believe on their jobs, be proud of their own work and fight to protect not just a salary but the product of their effort and talent.
I could completely understand why Lee Yo Won accepted this character. Ok Dan Jung and Seo Yi Kyung (Night Light) has a lot in common because they fight to survive in a world that can't respect their freedom and decisions, so they should fight to open their own way. The difference is that Seo Yi Kyung is playing a game much more dangerous than Ok Dang Jung because it involves a high political class, corruption, loan sharks and others kind of corruption, so her values are more flexible than Ok Da Jung but her effort to reach her objectives is equally strong.
Yoon Sang Hyun played Nam Jung Gi. If you watched the first episodes of Ms.Perfect you already know how kind of person Jung Gi is. I have the impression that this actor specialized in playing this kind of shy and coward character. However, Ok Da Jung could change him too, from a coward employee who just works quietly to receive his paycheck, he progressed to a talented employee who can manage his employees and produce amazing products. I love how Ok Da Jung faced him in the first episodes making his pride for his work arose.
Unfortunately, I can't say the same respect to the other employees.
Their development was much slower. Han Yeong Mi sometimes got my nerves, because she was that kind of old employee that worked too long one a place and became lazy and resistant to change. She just wants to keep doing what she always did and charge his paycheck. She didn't accept critics because she already all that must be known. She will change his position, but I think that she really took much time.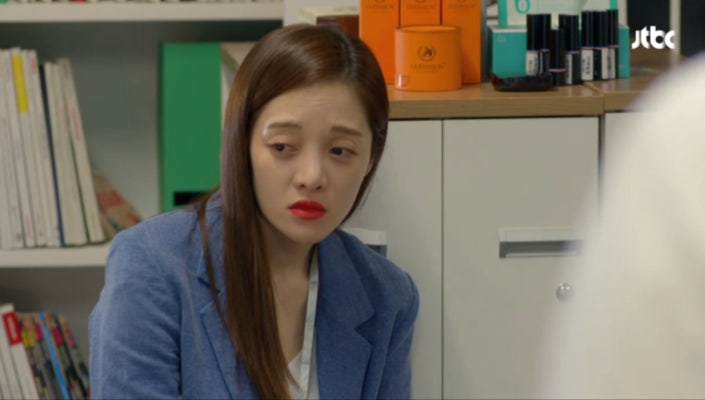 Hwang Bo Ra played Jang Mi Ri. To be sincere, I don't like or dislike her character. Sometimes I felt that she tried to use her charming and appeal to the emotional side of their superior, causing pity on them to survive. However, she was stronger enough to face a sexual harassment on the workspace. So, I respected her for it.
I was especially sad towards these two female characters because they are women but they never showed sorority for Ok Da Jung. They always reinforce the sexist gossip. Han Yeong Mi was particularly harsh with her superior, but she never asked directly an apologize, all her apologies where indirect. The only time she thought about how unfair was all the badmouthing was in episode 6, after Ok Da Jung had been slapped by her ex-mother-in-law and demonstrated for everyone that she wasn't sleeping with anyone for a space on the shopping channel. But,  it was in episode 6, they were working together since episode 2 or 3. Couldn't they give her the benefit of the doubt? It gave me the feeling the drama hadn't moved a step forward.
Kwon Hyun Sang played Park Hyun Woo. Oh, my… what can I say about this guy? I really couldn't like him, maybe I disliked him a little bit at the end. He was a guy who started as a lazy employee. He spread lies about Ok Da Jung. On top of all this bad behavior, he always believed that everything can be solved by money, because of it, he became a person without any positive attitude and invidious. He never did anything to conquer Mi Ri, but he did all he could to separated her from Bong Gi (her romantic interest). I wish I could erase him from my memory.
My second FAVORITE Nam Bong Gi played by Hwang Chan Sung. He is Jung Ki's younger brother. He is young and he has no clear objective for his life. He wants to enjoy his youth because he sees the examples of his brother (who work until the exhaustion) and his father (who has to work even old age). He will receive Ok Da Jung help to discover that he can have a different life from being salarymen with he use his effort and skill to a productive use.
The only time he really asked for her help, he didn't ask her to solve the problem, but to give him a fair chance to show his own capacities. Oh, my! Tears on my eyes!
Chan Sung deserves some words about his acting: you nailed your character! Congrats! I loved your acting and how you put on screen Bong Gi making him to relatable and funny. Any mistake he would be a terrible character, however, you were perfect!
Yoo Jae Myung played President Jo Dong Gyu. I think he was a good supporting actor. I wanted to comment about him because I think he really did a significant work in this drama, giving life to his character. I appreciate President Jo Dong Gyu with all his indecision, weakness but a good heart.
Ok Da Jung and the men
I can't really agree with the same tendency of JTBC plot to be so sexist and misogynistic.
The plot is basically about a boss who can't accept that a woman employee left the company to go work in a small company. He said with all words that! "It feels like my wife is changing me for a worse option". So, he harasses her in the new company making a dirty competence.
The plot had some "arcs" of the story. All of them had one of three Ok Da Jung ex-husband as the villain.
Ji Yoon Ho is the false good guy. First, he stabbed her back, to force her came to the company. After, he chose to be good expecting that she will return to him.
We can't forget that they broke up the marriage because he couldn't trust her. Again, he faced her because of his jealousy toward her and Nam Jung Gi.
I really feel sorry because Ok Da Jung suffered a lot because of gossip. A woman can't be successful only because she is competent, smart, talented. She must have slept with someone to get to where she arrived. [It's not uncommon, even in my workplace I always listen to something similar. It's not Korean, or rare. It's reality. Also, let's stop thinking that it is just man envy, women can be as harsh than men when it came about gossip. It's is why feminism is too important, to create more Sorority between women and more equality between man-woman.]
Let me explain something if there is a question about it: if you are good expecting sexual/emotional reward, you're not a good person; you're just treating the other as an object, buying her feeling with favors. I would add that women and men can have other relationship than romantic or sexual one.
Therefore, he was too angry when she didn't accept return this marriage even when de das ben too good for her. In fact, he wasn't being just good, he was expecting something from her for his false kindness. Eventually, he will think more about himself and his own interests when he helped her. Point for Ok Dan Jung to make him understand it.
The second-husband. He is the heir of a shopping channel and, for causality, the channel accepted to sell the product of the new company, where Ok Da Sung started to work. Of course, it was interpreted for everyone as Ok Da Jung using her body to succeed. Her co-works didn't saw it as the evidence that their product was good enough to attracted attention of the market. I think that "arch" was the worst part of the drama for same reasons.
She already had proved her engagement with the company, showing her talent to business and management. She had shown how righteous she was. She wasn't a "new" in the nest. I feel as her own co-works were stabbing her back.
It gave the impression that the plot never developed and the character wouldn't grow up. They would stay as selfish and mean people forever.
Ok, overcame the second husband the drama started to move on, finally. Some little changes were observed. However, nothing happened fast here.
We were presented to the third husband. The last challenge of the drama, the last "big boss" before winning the game.
Lee Ji Sang is an investor who messes with small companies to sell them and make a lot of money destroying everything else. Do you remember the character of Jung Kyung Ho, Kang Min Ho, in Falling for Innocence? So, this is the case here.
Lee Ji Sang was the last boss and his objective was to demonstrate to Ok Da Jung that money is more important than everything else. However, in this point, the employees were more aware of her way of work and, slowly, they found their way to keep together in order to defend their workplace, their jobs and each other.
I think that since episode 9 or 10 Ms. Temper & Nam Jung Gi became the drama I was expecting to watch since the beginning.
My favorite part? When Nam family was happy living their lives the way they always did, however, everything was different for them.
Jung Gi realized his talent and recovered his pride. Bong Gi started to think about the future, in his own way, but he matured a lot. The little Woo Joo started to study and be proud of his own progress. Jung Ki's father, now, had a girlfriend and was doing dance class; he discovered that to be happy he didn't need a Jeju Island travel or a machine, but strong love ties.
I feel that, in a certain way, everyone – except for the grandpa – changed because of Ok Da Jung. She pressured Jung Gi to fight for his work and recover his voice. She stimulates Bong Gi to be proud of the things he could do and she teaches to Woo Joo the pleasure of overcoming his own limits.
Final thoughts.
I really think that Ok Da Jung is my favorite female role in dramaland because she has many qualities I would like to see in other female characters on dramas: she is strong without being unpolite, she is clear and objective. She works hard and all she conquers is for her own effort. She never depended on a man, but she accepted fair help when it comes the time. She faced with head up all the gossip against her even when she was hurt, she had a huge sense of dignity, self-esteem and proud without any negative mean in these words. She changed for the best by her attitudes and example the mentality of the people around her. She is a modern heroine for our modern world.
Where Chief Kim brought the air of an "incredible" solution because of his nonsensical attitudes. Da Jung fought inside the system with weapons provided by the own system. There is nothing incredible or wonder about her. She is a manager and a very good one.
The negative point is that sometimes I was wondering if the Lovely's employees resisted accepting Ok Da Jung's leadership because she was a woman, and with her gender came a lot of suspicion and gossip. Chief Kim conquered their co-works effortlessness, despite the fact he illegal past. Only one of the employees resisted during more time, but eventually, all of them support Chief Kim. In Ms. Temper, we had to wait until the last third of the drama to it happen.
Whatever the truth, sexism or not, Chief Kim drama had a much better rhythm and consistent development of characters. This is enough to justify a higher score for this drama and low score for Ms. Temper and Nam Jung Gi drama.
I really can't give a too high score to this drama because there were many problems with it further them I already mentioned. So, I will try to resume my decision.
I will give it 7 – The drama had 16 episodes. The drama just started to be enjoyable after episode 9. I really love it after episode 14. The problem with rhythm and character development. I think that the off-voice were quite useless because the characters didn't progress accordingly to their thought. Most performances were good, I didn't take many points from it. The premise was to misogynic, I will take a point from it too. The lines, in general, were well written.
The list of JTBC dramas I watched and what happens…
I started watching jTBC dramas since 2015. My first experience was watching Beloved Eun Dong. After watching more dramas made by this channel, I think they have a problem with their writers' team about how to represent female characters.
I see an effort to bring strong female character, however, the environment is exaggeratedly sexist. Other times, they try to depict prejudice, but they just can reinforce them. There is a huge gap between a probable good intention and the execution of them. The other characters have to be an example of change too. It's necessary to put some educative lines in the mouth of the characters. It's necessary to expose the problem and the solution. More than that, it's important to observe the difference between humor and prejudice. Making fun of minority or powerless group will never be fun but a mistake. So, As much as I have loved Ok Da Jung, it can not be an oasis in the middle of people who is her opposite. In this way, I tend to think that Ok Da Jung was a mistake in the middle of an original and pure sexist plot.
I can't discuss a lot about it because I, confessed that I dropped many of the last dramas, but I dropped them exactly because I couldn't endure how they depict women. I think the only drama of them I gave a high score was Mirror of the Witch.
Secret Love Affair (17 March 2014 – 13 May 2014) – dropped because I couldn't feel connected with the story.
Falling for Innocence (April 3, 2015 – May 23, 2015) – watched 7.5
Beloved Eun-dong (May 29, 2015 – July 18, 2015) – watched 7
Madame Antoine (January 22, 2016 – March 12, 2016) – watched 8 [Sung Joon… I blame you!]
Ms. Temper and Nam Jung-Gi (March 18, 2016 – May 7, 2016) – watched 7
Mirror of the Witch (May 13, 2016 – July 16, 2016) – watched 9 – it wasn't too perfect, but the persistence of the villain conquered my attention.
Strong Woman Do Bong-soon (January 21, 2017 – April 15, 2017) – dropped because it was to sexism and prejudice for the two first episode. All aegyo didn't help.
Man to Man (2017) – watched 6.5: It was a bad drama, but it was too late (ep.10) to drop when I finally lost my patience, so I finished.
Woman of Dignity (2017) – dropped: too many negative stereotypes about women and all the "social climber" subject make me stay away from this drama.
♥
♥
♥
My favorite OST