Suspicious Partner is complete, so it's the moment to look back and analyze what happened.
Plot:
Suspicious Partner was the story of Prosecutor Noh Ji Wook and the lawyer Eun Bong Hee. They met each other working together at the Prosecutor office, where she was an intern and he was her boss.
Ji Wook has a childhood friend: the lawyer Ji Eun Hyuk. However, both have a love-hate relationship, because, in the past, Eun Hyuk did something which hurts Ji Wook. However, the life will put these two working together. 🙂
One day, Eun Bong Hee was accused of killing her ex-boyfriend. Ji Wook was forced to be the Prosecutor of the case and he asked Eun Hyuk to defend Bong Hee.
She wasn't condemned because Ji Wook decided to act as a righteous Prosecutor and dismissed a fabricated evidence against her. Without evidence, Bong Hee was freed. Because of his actions, Bong Hee felt very thankful towards Ji Wook and, then, their relationship started becoming closer. Ji Wook also was fired and became a lawyer.
After recovering his freedom, Bong Hee started trying to discover the real criminal behind the homicide case in which she was wrongly involved. In meanwhile, she accepts to defend Jung Hyun Soo, because he was in a similar situation to hers. In this point, the story really started.
Is Jung Hyun Soo innocent? If he isn't, so, how she can prove his guilt?
♦
My opinion about the plot:
I didn't love this drama since the first episode. If I think careful, I decided to watch this drama after episode 6, when Bong Hee started to investigate the real criminal and Ji Wook decided to help her. I made this decision because the plot changed a bit.
The first two episodes were a bad romantic comedy with a lot of clichés about the woman and we saw a bad-tempered female lead, an idiot boyfriend, the false female friend. In sum, all the package of sexist characters.
Bong Hee's love declaration, on episode 5, made me think how to confuse she was about her own feelings because a guy tried to help her.
Until episode 6, there was no reason to watch the same plot of many other dramas except for Ji Chang Wook and the smile of Choi Tae Joon.
When the second female lead showed, I didn't like her either and I thought I should give up definitely. Cha Yoo Jung was, in the beginning, a very typical ex-girlfriend, who cheated her partner and returned after a while shamelessly to mess up with her ex-boyfriend feelings. Also, she was very selfish towards Eun Hyuk.
However, at this point, I really was attracted by Bong Hee.
Weird, right? But, I liked her a lot in this drama!
In the middle of the drama, Ji Wook lost much time suffering for an ex-girlfriend who betrayed him many years ago. He is an adult man, successful, young, healthy and handsome man. Also, the time had passed. So, after many years, why is the reason for him to be so impressed by an unfaithful ex-girlfriend? It made less sense if we consider that he already was interested in Bong Hee. This "moment of uncertain" was, for me, waste of time with a useless plot which was only trying to create conflict from nowhere.
However, when Bong Hee started investigating the case in which she was involved, the character finally revealed her strength and how much she was willing to catch up the guy who accused her falsely. She became a good character. I liked her because she didn't give up or wait Ji Wook solve the case for her. She really put effort to solve the problem. She always said: – I will together, let's do it! Also, she perceived that she was receiving a favor from him living in his house and working for it. She never was comfortable with it and took it as "obligation of a man who loves me".
The fact is that the "murder case" was becoming less consistent every episode until the last two last episodes. – It was shameful, the author should have put more effort on it since it was the main part of the drama's description.
From my perspective, the drama went astray from the right path definitely when Jung Hyun Soo's first trial finished and Ji Wook confirmed that his client wasn't innocent and, consequently, he had helped to put in freedom a murderer. He tried to correct his mistake, but the investigation about the suspect was very amateur and clearly deficient in many points.
In the other way around, the plot started focusing more and more on the relationships between the characters. Ji Chang Wook and Nam Ji Hyun showed us all their amazing chemistry. The PD-nim gave us a lot of kisses scenes and one hotter scene. The author also tried to appeal for our feeling putting Chief Bang in danger.
As the focus now was the relationships, the author changed Cha Yoo Jung attituded and make her become nicer. Her hairstyle also changes from femme fatale to "good girl" style. So, we could ship her with the sweet Eun Hyuk. [I ship them, but I don't know if I did it because I wish she leaves Ji Wook alone or because I want that Eun Hyuk was happy. I think the second option is the right answer because I could have accepted him and Prosecutor Na too.]
So, if you are looking an investigation drama, I recommend you skip Suspicious Partner. You should try Lookout, for example. However, If you are looking for a rom-com, so you can stay here.
Actors & characters:
Ji Chang Wook did a great job. Now, he can start his military service without regrets. Suspicious Partner revealed his funny side and abilities to play a romantic character. Maybe he abused of sad and dumb faces, but, in general, I liked his performance.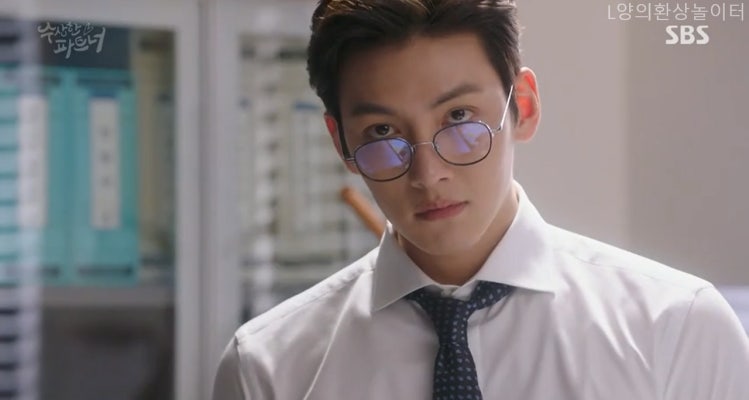 Ji Wook was a good male character. He was workaholic and needed control everything around him. Also, he was a nice person, who cares about the others. Another positive point was: he wasn't the selfish or vain male lead of K-drama. YES!
I liked him because he mostly looked at Bong Hee as his partner and not as someone he had to protect because she is a fragile object. Ok, he looked at her this way too, but it wasn't always and, in many moments, they worked together and they had sincere dialogues about their feelings, actions, and expectations. He respected her decisions in most of the cases. In my opinion, they relationship was more respectful than many other in romcoms. [For example, let's consider Legend of the Blue Sea. In this drama Heo Joon Jae (Lee Min Ho) tried desperately to be the savior of Shim Chung (Jun Ji Hyun)].
Nam Ji Hyun, for me, was the best part of this drama. She was funny and she made Bong Hee become very relatable. Thanks to her performance, I understood Bong Hee feelings of wounded pride, confusing, sadness and so on. Also, I laughed every time that she was dedicated to the work and forgot her vanity.
Yes, people, girls also can work hard and not just dedicated themselves to be pretty 24/7.
Ji Eun Hyuk is the imperfect character that I loved loving because he was imperfectly human, funny, warm-hearted, smart and handsome! I became his fan! 😀
Cha Yoo Jung and Na Ji Hae were two female prosecutors played by Hello Venus's Nara and Kim Ye Won (Tomorrow with you). I think both did a decent work, their performances weren't impressive but efficient. When Prosecutor Cha gave up of chasing Ji Wook and invested more time on her sisterhood with Prosecutor Na, I started liking their characters more.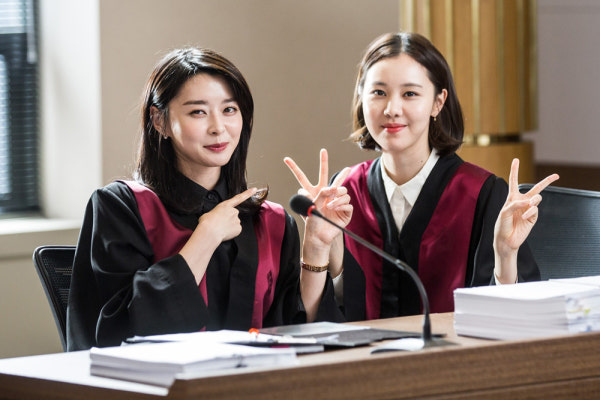 I read a comment that Dong Ha is a "screen stealer" because, with his good acting, he always calls our attention despite the fact that he always plays secondary roles. It's true. He is very talented and he made a realist representation of the ironical and tormented Jung Hyun Soo. [Now, being more critical: he should work more to be the main role. He still is not at the same level like Yang Se Jong, for example. Also, his character is not comparable with the killer played by Kim Jae Wook in Voice. Better skills come with practice and he can do it in the future with more experience and maturity. I think he has all opportunities and abilities to become a great actor. I will be waiting for it!]
My comments about the final episodes:
The last week was nice, but I was expecting a bit more from episodes 31 and 32.
On one hand, the characters could prove Jung Hyun Soo is a serial killer. It was quite nonsense the "amnesia" case, but I could accept it. Ok, he was a traumatized guy, who distorted his own memories to accept the fact that he was incapable of protecting his lover. Also, the way he found to take off his regrets was killing the other guys who had attacked her. Ji Wook discovered the truth and could guarantee that he was arrested and condemned.
Prosecutor Jang Moo Yeon also paid for his illegal actions being arrested and judged by the law.
Bong Hee became a completely innocent person.
No complicated sense of justice here.
My first frustration was because of the second part of episode 32. I was expecting that new relationship between Eun Hyuk and Prosecutor Cha would start, but the author gave me a "half relationship". She accepted that he would court her, but she couldn't reciprocate his feelings.
My second frustration was that Ji Wook and Bong Hee should have enjoyed some lovely moments to make us sigh because of their amazing chemistry and cute love story, but it wasn't what happened. The author dedusted the clichés of the first two episodes about relationships between man/woman. That kind of "love game" presented just showed us that the author still has the idea that the commercial version of love is the most cliché one. For weird reasons, K-dramas believe that a troublesome relationship is funny and romantic.
This ending was frustrating because presented a ridiculous notion of love, throwing away all the cute relationship that the main couple had constructed before. It betrayal the Bong Hee we knew, she wasn't a picky character during the drama; so, why turn her into such person? It's the opposite, she always said all she wanted and clearly.
At the end, the half-relationship between Eun Hyuk and Prosecutor Cha – which are "friends with benefits" – was much healthier than the whole-relationship between Ji Wook and Bong Hee. Prosecutor Cha said clearly what she didn't like, Eun Hyuk could explain and apologize. Then, they find a solution without emotional distress.
I can assure you: if your relationship is difficult because it needs conflicts to be exciting and one of the partners threaten to break up because can accept the difference of opinion, you are in a problematic romance and should evaluate your reasons to be with the other person.
My score: 7.5 – I took 2.0 points because of the abusive use of cliches and 1.0 for the weak storyline about the investigation. I added 0.5 because of the chemistry between the main couple, which made this drama adorable.
♥
♥
♥
OST – Only My favorites: