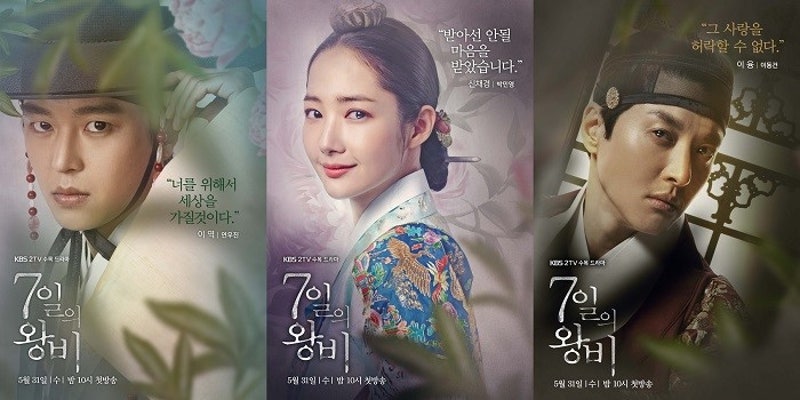 Summary:
Queen for Seven Days is about the story between Queen Dankyeong and the King Jung Jong (the Crown Prince Yeok). Jung Jong was the successor of Yeon San Gun.
Historically, Yeon San Gun was dethroned because of his tyrannical reign. His half-brother took over the power; however, Jung Jong was pressured to depose Lady Shin from her position as the queen only seven days after she was declared so. This happened because her presence was related to the influence of the previous King.
In the drama, Yeok is a good kid who loves his brother, the King. Yeon San Gun is not a completely bad person, but he has deep marks because of his traumatic past and he wants to prove himself by being a powerful King. However, the late King and some political forces, including his stepmother, want him to resign on behalf of Yeok.
The more he is pressured to resign the more he becomes emotionally unstable.
Yeok met Chae Kyung, who will be the Queen for seven days. Different from History, she will not just be deposed; in the drama, she also will be sentenced to death and will die together with her family.
My thoughts: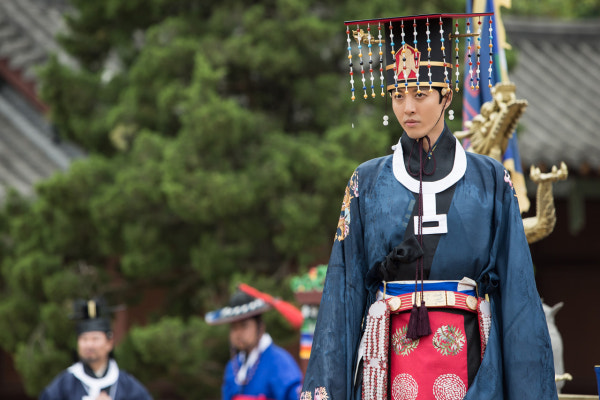 I am not totally convinced that the King sent a person to kill his bother. I think it was a plan of his concubine and the evil minister in order to reign without opposition.
They want to isolate and manipulate the king using his madness and his pain. The best way for it is separating him from his brother, who is the object of his affection.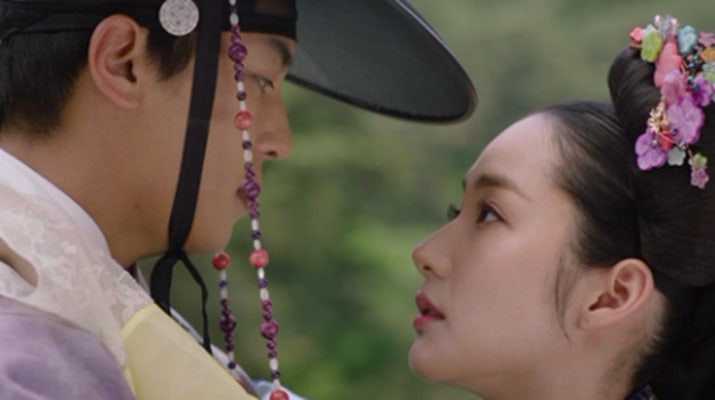 However, Yeok has many people who are telling him that the king wanted his death and he ordered his murder because of his own greed towards the throne.
After he almost died, it was difficult for Yeok to continue believing in his older brother's love. It's sad.
These were enough conditions for a heartbreaking plot, but there are more.
Shin Chae Kyung is a funny, spontaneous and naive girl who loves the Crown Prince. She also believes that the family ties are powerful and, because of it, she believes in the good heart of the King.
This is a bad combination of characteristics since politics sometimes is stronger than blood and affections.
At the end, she will discover how politics can be cruel, as we already know.
What do I like most about this drama?
The performances are solid. The young cast did a good job too. Lee Dong Gun impressed me as the King. He looks mad sometimes, but he can express all the complexity of his character. I really like it when he is with Chae Kyung.

Yeon Woo Jin is doing a great job too. In the last episode (6), he showed us all the pain his character feels, how much the young prince suffered, and how the adult prince still kept the body and emotional marks of his near-death experience. It was very touching.

Park Min Young is not impressing me. Her first scene was weak, the facts were very dramatic, but her expressions didn't follow the circumstances. [they could redo that scene for the end]. However, she is getting better as she is getting used to her role. Still, she is not doing anything different in comparison with her previous dramas.
I like the productions, specially the scenography, the make-up and the costumes.
I also like the plot. As I wrote, there are many elements for a good drama. On the hand, there is less politics than I thought when I started to watch the drama. On the other hand, the complexity of the human relationships will be enough to move the plot in a good direction.
I can understand the love triangle. I usually don't like love triangles, but here it's not a conventional one. I feel that the King really needs an emotional support to endure his hardship and loneliness. Chae Kyung loves him as brother and she's as sincere as he is about her. They are lovely in a different sense of the word.
What don't I like about this drama?
The concubine. It's high time there was a moment for us to know her intentions . She's playing a significant role, but we don't know anything about her.
I wish Chae Kyung had become a more mature woman. She is still very impulsive and clueless about the world around her.
I have no solid opinion about Go Bo Gyeol, who plays Yoon Myung Hye – the girl who helped Yeok to survive. On the one hand, I think she can be a very interesting character, supporting the Crown Prince. On the other hand, I think she can become selfish and jealous about him (she can be like the false King in Ruler, for example).
I would appreciate if Yoon Myung Hye was someone like the Princess Hwang Bo Yeo Won from Shine or Go Crazy, played by Lee Ha Nui.
Additionally, I would be very happy if the Crown Prince had an end similar to the ending of the Prince Wang So, in that same drama. It's not exactly a happy ending, but it is fair enough to satisfy me.
My grade: 9/10 – there are many good things to entertain us.
Last but not least
I like the OST ( in order of my own taste):