Synopsis:
Duel is about a detective, who is a widower and father of a 12-year-old daughter. She is sick and he is devoted to saving her life. One day, his daughter is kidnapped during her transference to receive an innovative treatment in another hospital.
During the investigation, the detective finds the kidnapper but he figures out there are two of them. The weird fact is both men are the same physically and biologically.
One of the big questions is: how is it possible?
Anyway, the only certainty that the detective has is: to save his daughter, he needs the guy. So, he helps the "nameless guy" to escape from prison to find his own daughter.
Then we see a young journalist, who is investigating her mother's past, and somehow her mother was involved in the case of the clones. Until the moment, they don't use the word, but it's clear for us that they are clones.
Also, there is a mysterious list. We don't know what the list is for. (My guess is that the list has the names of the people involved in the experiment – doctors and victims – and the girl has this list).
My opinion so far: Lee Sung Joon was the doctor on the old picture, and he created a clone to accomplish his objective (maybe it is eternal life); with a clone, someone else will be blamed in his place. He will be free and immortal.
However, why do they need the girl?
There are many questions in the air.
Script comment:
I think the plot is innovative when we think about clones. However, there are many similarities with dramas where parents lose their children.
Talking about desperate father-son relationships, if I compare among the dramas of this year, I liked the acting of Lee Shi Young in The Guardian when she lost her daughter as much as I liked Jung Jae Young's scenes, here in Duel.
Jung Jae Young's character reminded me of the mother of God's Gift. Both have to face a situation (she returns on time and he sees a clone) which is impossible for them to explain and ask for help.
However, I didn't like Defendant, not because of Ji Sung but because I couldn't enjoy all the many crying scenes. In my opinion, the director abused of Ji Sung skills and the repetitions were too exhausting. The actor is skillful, I have no doubts about it; however, at a certain point, this kind of scene became much more about creating empathy between the character and the public than an emotional necessity of the drama.
However, I think it will be difficult to do better than Kim Sang Joong (Gil Dong's father) in Rebel. This actor and the little Lee Ro Woon did an amazing job. I have no words to describe how much I like the emotional connection of these two. – But, they don't lose each other, although this father made everything to save his son. It was very moving. The scene when Gil Dong lost his sister was heartbreaking too. Many good performances, without  exaggeration and on right point to move us.
About Duel, I also like the twist on the Jung Jae Young character too. He started as a dedicated father and an efficient detective. However, we discover that he wasn´t always that guiltless and that his past actions are related with his present situation. [It makes the difference between him and Jang Hyuk's character in Voice – who was a complete victim of a violent crime].
In my opinion, the writer should have shortened the scenes in which Deuk Cheon doubts, attacks and mistreats Sung Joon just because he is angry or frustrated. He needs the guy, there is no option, so this kind of attitude is pointless. I think they should have presented the "agreement" between them for a shared-investigation before, in prison, when Deuk Cheon rescued Sung Joon. But they took two more episodes to do that. Frustrating.
My expectation is that Duel will not became a sci-fi drama because of the "clone" subject. I think it will be more of an investigation about the crime behind the clone's existence: why are they committing so many crimes? Why are they cloning people? – Those questions (in this order) are, in my opinion, the main subjects of this drama.
Production details:
At the beginning of the first episode, the camera tried to move in innovative ways, following the actor Jung Jae Young, who could play a very good desperation scene.
The scene of the dogfight was amazing.
There are many good scenes. I think the production meets the levels of Voice. I'm completely satisfied in this point.
Characters:
Who is doing the best work in this drama is, undoubtedly, Yang Se Jong. He is playing two characters, and they are very different. I fear the evil clone as much as I pity the good one. All my expectations to see him are complete fulfilled, he did not disappoint me at any time.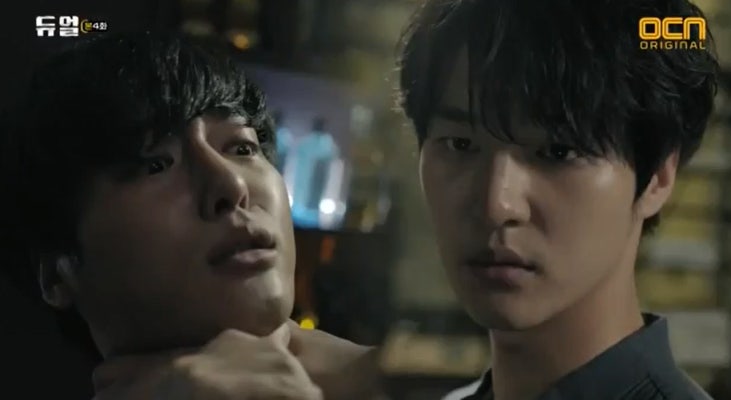 I think Jung Jae Young is doing well as a despaired father. However, I'm not impressed, as I believe many other actors could play similar roles as good as himself or even better.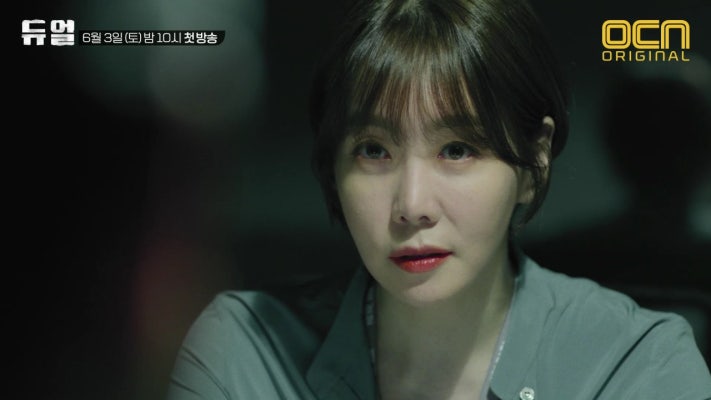 Kim Jung Eun plays the Prosecutor Choi Jo Hye. The actress is very experienced; however, her first scene wasn't as great as expected. The mixture of selfishness and sarcasm wasn't on point. She is failing to represent an ambitious and an unscrupulous person.
Choi Jo Hye reminded me of Lee Young-Ae's acting. Both actresses have the tendency to stare at nothing. Choi Jo Hye also tends to open her eyes to cause the impression of a more imposing figure. I think both attitudes don't work on screen and give me a bad impression.
Yoon Gyung Ho is doing a terrible supporting role as a police officer. He couldn't be less discreet and easier to be discovered. He plays that well-intentioned fellow but he is not much help most of the time.
Seo Eun Soo is playing the young, naive journalist. I didn't see much increase in her acting since Romantic Doctor, but let's see when her character grows more.
Why do I still prefer Voice?
In Voice, Jang Hyuk was in a very difficult position. He lost his wife and Kang Kwon Joo, the only person who could help him, helped to free the suspected of the crime. However, he gives the benefit of the doubt to her and decided by himself if she was right or not.
Here, we didn't waste much time discussing something essential to the development of the drama: they need work together and this was a fact since the beginning. So, it was pointless be always discussing the trust issues between them, and abusing of our patience with this topic.
This is exactly what happened in Duel during FOUR episodes; however, in Duel, the detective wasn't satisfied just discussing, he had to use violence and threat the guy in many different moments. At a certain point, I thought: ok, just kill him, stop it, and give up of find your daughter. His stupidity looks frustrating for me. The result was clear: I stopped feeling empathy for him.
It's good to make a point here: I don't have problem with violent scenes in this kind of drama, because this genre represents a world of violence and crime; so, it's expected that we will see many violent scenes and I'm Ok with them when I watch the OCN dramas. However, I don't expected from this kind of drama that the author wastes my time with scenes of violence between the two protagonists, who need be together to the drama develop. It's meaningless violence and it's boring.
Voice was very good drama because of its script, which had no excess of scenes and was very objective. The author was very decided about what kind of story the drama wants to tell us and he was able to do this with much competence.
My last evaluation: 
I see a story to be developed in Duel. It's different of Man to Man, for example, in which drama I couldn't see a clear objective even at the end.
However, in Duel, I see many elements, which can complicated the development of the drama. There are: the corruption of Prosecutor Choi, the past of Nurse Ryu, the clones story, the daughter kidnap, the guy behind the Sung Hoon partner and the gangster Yang Man Choon. So far, I think it's possible connect everything and I expect this happens.
Until now, my grade now is: 7.5/10 – The same of Tunnel; but I wish Duel replicates more of Voice's the successful points.
By 7.5, I mean that I can see good points, but the balance with the negative aspects is very subtle. The positive side is based on the huge talent of Yang Se Jong. The main problem is the weak supporting actors and some pointless violence. I confess taht, sometimes, I find Duel boring.